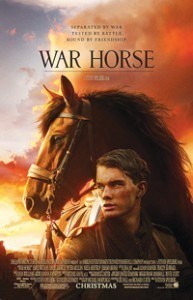 Based on the children's novel by Michael Morpurgo which is set before and during World War I, War Horse was brought to the stage in 2007 by Nick Stafford. Richard Curtis and Lee Hall wrote the screenplay to the movie version of War Horse and the film is directed by Steven Spielberg.
An Irish Farmer, Ted Narracroft (Peter Mullen) purchases a feisty thoroughbred colt instead of a more practical and much needed plow horse. Ted Narracroft's son, Albert "Alfie" Narracroft then trained the horse himself developing a special bond with him who he calls "Joey". Despite Albert and Joey's efforts to plow the fields, the crops fail and Ted is forced to sell Joey to the British Calvary on the onset of World War I.
In the British Calvary Joey befriends another horse, Topthorn and the two horses are taken to the front line in France. The British Officer that purchased Joey is killed in action and the horses change hands several times between German soldiers who are shot for desertion and a young French Girl, Emile (Celine Buckens) who takes them in. They are then taken again by the German Army and forced to pull heavy artillery. Can Joey make it back home to Albert?
For the film, 14 horses were used to play Joey and 4 horses played Topthorn. In one scene over 280 horses were used.
The acting is first rate from Jermey Divine as Albert (in his first major film). Emily Watson delivers some of the strongest lines as Albert's mother, Rose.
The book, play and film all give a different perspective of the same story. The novel tells the story from Joey's point of view and the play and film are from a narrative point of view.
Filmed on location in Dartmoor, Devon, War Horse is an emotionally charged tearjerker. The Cinematography is excellent filled with beautiful scenery that is pleasing to the eye. Nominated for 6 Academy Awards including Best Picture, Best Cinematography, and Best Original Score (John Williams) War Horse is well worth watching.
The film is packed with enough emotion to make the staunchest critics cry. If the movie wins the Oscar for Best Picture it is well deserved. War Horse is not to be missed.
by Katherine Massopust