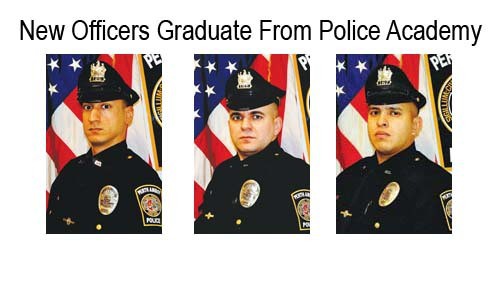 PERTH AMBOY – Acting Chief of Police Benjamin Ruiz is proud to announce three new Officers from the City of Perth Amboy have graduated the Ocean County Police Academy in the 93rd Basic Police Recruit Class, 16 February 2012. These three new Officers serve to fill positions that have been vacated by recent retirements. All three Officers have been assigned to the Departmental eight week Field Training Program and bring with them a dedication and work ethic second to none. The Perth Amboy Police Department is proud to welcome our newest members,
Officer Davis Salazar has previously served our Country in the United States Navy as a Navy Seal. He received numerous awards, decorations as well as commendations during his tenure with the Navy. He attained a perfect score in one or more of the three qualifying firearms rounds.
Officer Andrew Hadjioannou serves in the Marine Corps Reserve and previously worked as a peer counselor for adults with autism. He has earned an Associate's Degree in Marketing as well as is currently pursuing his Bachelor's Degree in Psychology from City College of New York. He received numerous decorations in the course of his Marine Reserve career.
Officer Stephen Hedberg served as a Military Police Officer in the United States Marine Corps Reserve receiving numerous awards and decorations. He attained a Bachelors Degree in Criminal Justice from Thomas Edison State College. Officer Hedberg received the 93rd Basic Recruit Class Award for High Marksmanship.
News Release