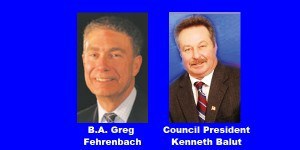 Perth Amboy Applies for Transitional Aid —
Topics of Discussion at 2/22/12 and 2/27/12 Meetings
PERTH AMBOY – At the Special Meeting on 2/27, Business Administrator Greg Fehrenbach gave a presentation of what conditions must be met by the City if they are granted Transitional Aid from the State. At the Council Meeting of 2/22 he said it took six people to fill out the transitional aid application. "The twenty-nine page memorandum includes state monitoring of contracts, hiring, etc. which the Mayor and Council would have no control over, if we are accepted for this aid," Fehrenbach stated.
Some of the focal points of transitional aid would include making a loan to the City. A grant is set up if certain conditions are abided by. There would be a placement of a monitor. Labor contracts in place cannot be touched. If contracts expire a monitor can participate in those cases. A monitor can preside over vacancies or new positions, salaries of non-union employees, capital improvement and budgets and modification of that services.
Fehrenbach stated that in some instances such as in Hoboken the State monitor raised taxes 45% without the local government body voting. The monitor is basically concerned is that the bottom line is met.
In another instance the monitor stopped all services except for the police, fire and EMS.
"If we are accepted for Transitional Aid it would be for one year to provide for additional property tax relief. We are one of the ten most municipal property taxed towns," Fehrenbach stated.
The following towns such as Newark, Irvington, Paterson, Trenton and Asbury Park are always the prime candidates seeking this aid. Lindenwold was one of the towns applying for additional aid at the same time Perth Amboy.
The aid that Perth Amboy is requesting is $2 million which would be applied towards the 2012 City Budget. Fehrenbach said that the introduced budget came in $4.4 million below fiscal year 2010. "This is the first time in fourteen years that the tax levy has dropped. This budget is also $1.5 million less than the 2011 budget. The decrease in property tax levy is $1,187,000. " said Fehrenbach.
The proposed Citywide 2012 municipal budget is in the total amount of $70,787,201. Mayor Wilda Diaz stated this budget will stabilize property taxes by trimming the cost of government services. "There was a lot of unnecessary debt created by the prior administration due to illicit mismanagement," Mayor Diaz stated. "This is something my administration has been dealing with and we have consolidated our resources within the Police, DPW and Fire Department which has reduced overtime, accumulated leave liabilities and responding quicker to emergencies dealing with public safety. Even with all of this going on, we still have a excessive debt."
One of the financial objectives is to look into the YMCA service agreement and obligations.
At several Council Meetings, the Council members and residents have voiced their concerns about the many change orders that have occurred in regards to the Public Safety Complex on New Brunswick Avenue. Some of those change orders have applied to the repairs, modifications, and upkeep to the swimming pools at the YMCA. The City has met with President and CEO of the YMCA Steve Jobin to resolve these issues.
Each city department head also presented their budgets to the B.A. at earlier hearings. Fehrenbach made suggestions when necessary to any department as to what additional information was needed for him to make a determination if there was a way they could consolidate or eliminate certain functions.
B.A. Greg Fehrenbach stated that the City had borrowed $4 million initially to help pay off money owed to Middlesex Water and that is down to $2 million.
The Parking Utility Surplus is to be used for structural improvements to the Jefferson Street Parking Deck.
Council President Kenneth Balut stated that it was the local Financial Board that put us in this position by approving bonds requested by the prior administration that should never have been granted.
Fehrenbach told the governing body had exactly four weeks and two days from February 27, 2012 (when the special meeting was held) to get this budget together.
Any amendments to the budget must have a public hearing by April 4, 2012.