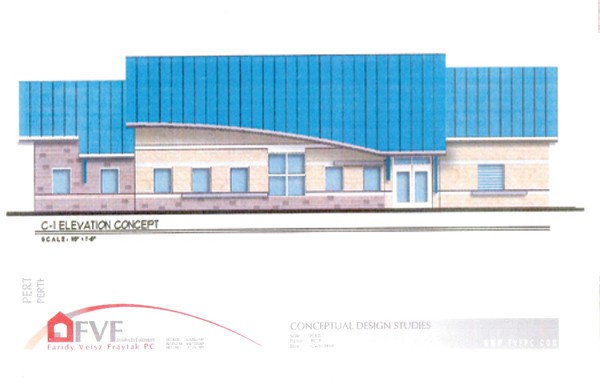 By Tracy Jordan —
PERTH AMBOY – Ken Ortiz, Director of Human Services and Superintendent of Recreation, opened the "Tennis Anyone? Public Comment Session" by stating the goals for the rebuilt tennis complex: to offer tennis, to teach discipline, manners and etiquette through the program and to restore the glorious days of Perth Amboy when it had a robust and well-respected program with 23 tennis courts total. Other services at the center would be homework assistance, art activities and anything positive to deter the use of drugs, tobacco or alcohol by children.
The 3200 sq ft building, partially constructed already, will have one large community room (with seating for 200 people), public restrooms, a small office and a concession stand. Director Ortiz will be seeking a United States Tennis Association (USTA) organization, in the form of a branch club of USTA with a 501 ( c ) 3 status, to run the center as well as collect dues, fundraise, apply for USTA grants and provide instruction. The full scope of the club's responsibilities is still not determined.
The Phases of the project are: 1) construct the building (with insurance monies, completed by end of April 2012); 2) build the East courts (East of Brighton Ave.) planned as two adult and three child-sized courts and start tennis play there by Sept. 1, 2012 and 3) restore the surrounding gardens that were fire damaged, beginning in Sept. of 2013. Phases 1-3 are not tax-payer based and incur no debt. The third phase (Est. 83K) will be a team effort of the project engineer and the Royal Garden Club.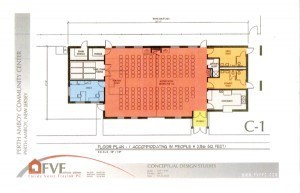 The 4th phase is economically challenging – build five adult sized courts on the West side of Brighton Ave. The estimated cost is 290K. Public questions abounded about the Board of Education entering into a reciprocal agreement and assist with some funding – this process had been started but not completed. Engaging the BOE will be researched and pursued. Citizens were encouraged to attend BOE meeting and raise this topic. "You 'young guys' organizing and pushing for this would make a huge difference," said Councilman Joel Pabon. "Ask to meet with the BOE Athletics and Co-Curricular Committee. Going in as a group is healthy: we don't want to have to wait 3-4-5 years for the West courts."
At this point, the public stated it would actually be better to complete the West courts first as more people could utilize them and play sooner than by completing the East courts first. A discussion ensued, a vote was held and Director Ortiz stated the West courts will be completed before the East. It was refreshing to see how welcome community knowledge was and how it influenced public space decision-making for the benefit of all.
Jonathan Lopez, Perth Amboy resident, stated that "The BOE needs to step up". He added, "I play a lot of tennis. All sports are equal but so much focus is given to football and baseball and these are not lifelong activities, as is tennis." Donna Patel reminisced about how "We would all go on a bus to the US Open for years and years." Captain Howard Yellock, local USTA Team, urged speed as "I am being pushed out of USTA – they won't send matches here because our courts are so bad." Dr. and Mrs. Wolf from town spoke about how much talent is here and how hosting competitions is so important. "These kids could be super stars; they need exposure."
Resident Gina Jernick added that "Police presence is crucial or it won't be controllable." Councilman Joel Pabon added that "Programs with adult supervision reduce crime. Mayor Diaz is adamant on police presence." Resident Maria Garcia summed it all up: "People who have played tennis here love it – the view, the breeze. We can bring this back on a grand scale if we concentrate."
If you wish to be a part of the tennis movement in Perth Amboy, contact Ken Ortiz at 732-829-1960.