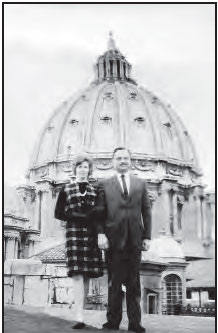 Watching the elevation of the 22 cardinals including Archbishop Timothy Dolan of New York by Pope Benedict XVI at St. Peter's Church in Rome, Italy, brought back happy memories to me of when I used to visit Rome quite frequently back in the early 1960's.
My employer Airlift International of Miami, Florida made regular flights from New York to Rome, Italy with a stop at Milan. We had just converted from propeller aircraft to jets. As navigator in Douglas DC-8 four engine aircraft I was thrilled to be a member of the crew. It was much more exciting – and romantic- than toiling in dull and stuffy offices or courtrooms.
At that time an ecumenical council presided over by Pope John XXIII was convened at the Vatican in Rome. A few thousand clergymen from all over the world arrived to take part. I was one of the many spectators. This was a council which brought about many changes in the Catholic Church. Among these the priest facing the congregation during the service, the service being conducted in the people's language and not in Latin and the Priest greeting the people as they left the church. Later as I left the church I remarked to the priest, "Father, you preached a wonderful sermon. I woke up refreshed." He smiled. He also had a sense of humor!
When my mother's fellow bingo players at local churches heard of my trips to Rome they asked that I bring them back some souvenirs. I was glad to comply. The shopping stand at the Vatican was where I purchased pockets full of rosary beads. The nuns were very friendly. To them I was known as Signor Pietro!
At the games my mother passed the beads to her friends. No charge! Shucks! They were cheap enough in those days. However divine help or prayer has not affected games of chance. Later when I attended the wakes of some of them I noticed some of those beads were entwined on the wrists of the deceased ladies. I feel confident St. Peter passed them through the Heavenly Gates without the aid of those beads.
Rome, the eternal city, is more than this short piece. That comes later. Meanwhile I treasure those happy memories.
Thank you for your courtesies.
Very truly yours,
Peter Book a.k.a./ Pedro Libro