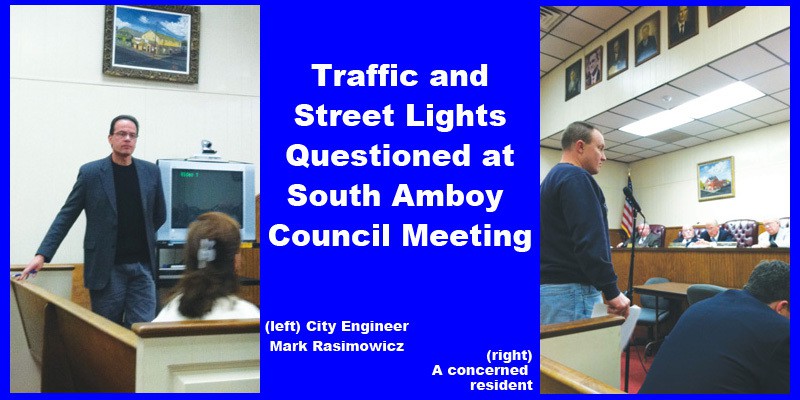 By Joseph L. Kuchie —
SOUTH AMBOY – In what is becoming a recurring theme, the traffic and street lights around South Amboy were once again discussed and debated at last week's council meeting.
Last month, business administrator Camille Tooker noted that there were 57 street lights out around the area, but the city was working with Jersey Central to fix the problem. At the last meeting, Tooker explained that she met with the lighting company and progress was being made.
"The city met with Jersey Central last week to discuss the lighting, and our issue is a priority on their list," Tooker said. "However, we are not the only town they service and they have to operate on a budget, so it's going to take time."
Despite the progress, resident Tom Cross was not satisfied with the work being done. Cross has attended a number of meetings in the past few weeks in an attempt to have something done about the lighting problem.
"We pay for this service in our taxes, and according to the bill list we are paying $13,000 a month to light the city," Cross said. "Those lights are consuming energy whether they are working at full capacity or not, so it doesn't matter how many times we report it if they don't fix it."
Resident Vince Mackiel also voiced his concerns on the lack of lighting in the area, questioning what has changed around the city since they first met with Jersey Central. Tooker was able to give him information, explaining the new upgrades to city hall and the firehouse.
"We met with Jersey Central about fixing Broadway, but we have already seen improvements to lighting near city hall and the fire house," Tooker said. "They have installed 'cobra lighting' on existing poles by the train plaza and have also fixed general lighting near the YMCA. Work is being done."
"Cobra Lighting" is a type of LED light that can be placed on top of streetlights to improve lighting in the area. Most of these lights can illuminate an area for hours on one charge and can sustain an average lifetime of 100,000 hours.
Another issue raised at the council meeting was traffic lights, as resident Mary Bouchard questioned the timing patterns of the light on Washington Road and Feltus Street. She believed the light coming from Washington Road was changing too quickly and South Amboy residents were suffering.
"The light on Main Street and Feltus coming from Washington Road is 20 seconds, yet if you're driving down Main Street the light is a minute and a half," Bouchard said. "I think South Amboy residents are the one's who are being taken because it takes at least four lights to get across these roads."
Bouchard was also concerned about residents being able to cross the busy street, explaining that 20 seconds was not nearly enough time for senior citizens to get across the road safely. She told the council she had looked into it before, but was told it was not a city issue but a state issue.
"I don't think 20 seconds is enough time for a senior citizen, myself included, to walk across Main Street safely," Bouchard said. "I was told that this wasn't South Amboy who was in charge of the street lights and that it was a state issue, but I still think it should be looked into."