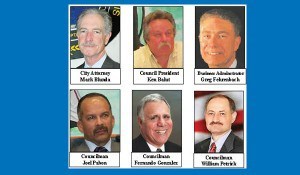 PERTH AMBOY – "You should see the piles of unopened mail and shredded paper and we are still paying bills from the year 2000. If I could have 1% of what was shredded when we came into office in 2008 we could probably find more evidence of wrong-doings to recover money owed to the City."
These were some of the remarks made by Council President Ken Balut at the 3/26 and 3/28 Caucus and Council Meetings. Balut also said he calls the Department of Community Affairs or the Attorney General's Office at least once a week to ask them to continue to investigate money that was stolen from the City. Balut was responding to critics who turned a blind eye to what this present administration is being faced with. There was gross mismanagement from the Vas administration that we are still paying for.
"Business Administrator Greg Fehrenbach and Attorney Mark Blunda are worth every cent that we have paid them," stated Balut. "They have saved the City a lot of money by uncovering a lot of the misappropriation of funding and they are taking the brunt of most of the criticism."
When Fernando Gonzalez made the statement that "We have the highest paid Mayor and Business Administrator in Middlesex County." Is when Council President Balut defended Fehrenbach and Blunda.
There was more friction at the meeting when Councilman Fernando Gonzalez commented about the budget not being fair to the citizens of Perth Amboy.
Fernando Gonzalez stated, "We are the highest taxed municipality in Middlesex County." He then went on to say, "We should lower taxes – not just stabilize them. In the year 2011 six neighborhoods got an average of about $1200 in reduction for their property taxes. In 2012 other neighborhoods received about $900 in property tax reductions and I believe that all properties should have been adjusted at the same time."
"I am shocked about Mr. Fernando Gonzalez comments," stated Councilman Joel Pabon. Pabon especially was taken aback when Fernando G. said he made about fifteen suggested budget cuts that were overlooked. Pabon responded, "I disagree with you."
Councilman William Petrick said he would be happy to request that a resolution be drawn up asking $250 million in aid from the governor's office. This was in response to resident Stanley Sierakowski's comments about why Perth Amboy only requested $2 million in transitional aid.
There was also a conflict between the other Council Members and Fernando Gonzalez when it came to the matter of reinstating into the budget the amount of $2000 for the auxiliary police. The Council also wished to add $2400 to a new program called "Sisters Under Sail." Bill Petrick moved this amendment and Ken Gonzalez seconded the motion. F. Gonzalez was the only Council Member who voted "no" on this matter.
The $2000 that was taken out of the line item for auxiliary police was done so because there was surplus money left over from the previous year for that entity. Petrick asked that for this $2000 to be reinstated because each year has different needs. He alluded to the fact that we will be having extra activities this year that were eliminated previously The $2000 for the auxiliary police will be needed when these events take place again.