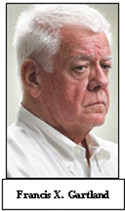 Maryland Insurance Broker Francis X. Gartland Bilks City of Perth Amboy out of more than $200,000 and the Perth Amboy Board of Education out of $2.6 million
SOUTH AMBOY AND PERTH AMBOY – On Tuesday, April 10, 2012 Francis Gartland stated that he is fully responsible for his actions in the theft of funds from the City of Perth Amboy and the Perth Amboy Board of Education. He further stated that his son-in-law, Derek Johnson, 41 was just an employee in his company. Gartland's son-in-law, Johnson has charges pending against him as does another corporate defendant of East Coast Administrative Services Inc. This is also an indictment related to the charges of fraud against the City of Perth Amboy.
In May there will be a status conference on this case involving Derek Johnson and East Coast Administrative Services Inc.
Federal Hill Risk Management (Gartland's Company) was a former broker of record for healthcare insurance in the City of Perth Amboy. Besides Gartland, there were other defendants who fraudulently obtained over $216,000 from the City. Frank L. Cotroneo of Bernardsville already pleaded guilty to his role in this plot.
Both pled guilty to the following: Making false representation to the City's medical insurance carrier. The renewal rate of $15 per employee per month fee was implemented to each City employee beginning in January of 2007. This was supposed to cover the cost of a wellness program which never was put into place.
In regards to the Perth Amboy Board of Education, both Gartland and Cotroneo pled guilty to billing the Board of Ed over $2.5 million. They charged the Board of Education for fictional healthcare related programs and services. This included employee assistance and wellness programs.
A restitution of over $2.5 million must be paid to the Perth Amboy Board of Education and over $216,000 to the City of Perth Amboy must be paid by Gartland and his companies under his operation. Also Gartland and his companies must pay penalties totaling over $8 million and a fine of $500,000 must be paid.
Gartland's attorney, Kelly Daniels stated that Gartland does not have the resources to pay restitution, penalties or fines.
One of those who benefited from this illegal scheme was former Executive Director of South Amboy Housing Authority Thomas O'Leary who received part of the commissions obtained through the fraudulent insurance schemes.
Gartland is scheduled to be sentenced on Monday, September 10, 2012 for these guilty pleas for state charges in Superior Court in New Brunswick. His sentencing for the federal charges is scheduled for Monday, July 9, 2012. The state and federal charges will run concurrently.