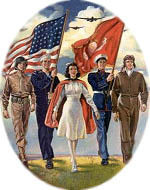 We went down to the Waterfront to take a photo of the War Memorial now that the names of politicians have been covered up. We noticed that it is simply just covered up with an unflattering sheet metal material. This material is being pulled off (one corner is raised already). People will continue doing this until the cover is all the way off. The memorial should be something that we should be proud of. The covering of the politician's names should not be slip-shot. The City should invest in permanent solution when covering up the politicians names.
Presently we do not know what the City's plans are for the memorial but we thought we would make some suggestions.
The marble on the top portion of the memorial is a thin layer and could easily be removed. The entire piece can be replaced with matching marble. We have a suggestion as what should be engraved there. The new marble should bear the all of the armed forces symbols, going down both sides of the memorial. In the center of the memorial should read, "For those who have made the greatest sacrifice, have served and are serving in the armed forces to preserve our freedom."
Perth Amboy's first Concert is usually held in the first week of July and they are known to showcase Patriotic Songs. It is a wonderful way to spend a beautiful Sunday afternoon listening to music and vocalists performing a variety of music ranging from show tunes to modern classics. There is a wide variety of musical taste to satisfy all. But come out and be the judge for yourself. In case of rain, Concerts by the Bay are held inside the nearby McGinnis School on State Street. Kudos to the Garden State Symphonic Band and their Conductor, Chris Pedersen for welcome aftertnoon's of relaxation and enjoyment from 3 p.m. to 5 p.m.
Contributions May Be Made To: "Concerts by the Bay, Inc." (A Non-Profit Corp.)
c/o Dr. J. Santamaria, II, Chairman,104 Market Street, Perth Amboy, N.J. 08861
C.M. K.M. & P.W.