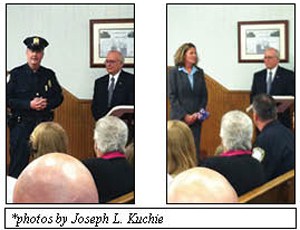 By Joseph L. Kuchie —
SOUTH AMBOY – It was a big night for the Noble family last week, as two family members were sworn into different positions before the South Amboy council meeting.
Police officer Brian Noble was the first to be honored, as he became the second member of the South Amboy Police Department to be promoted to Sergeant in 2012. Mayor Fred Henry swore him in with many of his friends and family in attendance.
"It's a great thing. I want to thank my wife and kids for standing through this with me," Noble said. "It's been a long time for me to try to get up here and the people that surround me make this job a lot easier then it appears in the papers."
Police chief Darren Lavigne had many kind words to say about Noble, who has been on the force since 1996. He praised Noble's hard work and leadership over the years, and emphasized the difficulty of being promoted to sergeant in South Amboy.
"Some people don't understand the testing process these officers go through to become sergeant. It's intensive and competitive, they take a lot of time away from their families, and the testing comes out of their own pocket," Lavigne said. "I'm glad to see someone like Brian get rewarded for making that investment, and I'm sure Amy will love to have his husband home instead of studying for the tests."
After Brian Noble's ceremony was complete, it was then time for another Noble to take center stage. Christine Noble, Brian's sister, was sworn in as second-ward councilperson on the South Amboy council.
Noble, D-South Amboy, will replace her cousin Mark Noble on the council, who stepped down last month to focus on his family and future plans. She was nominated and unanimously voted on by the rest of the South Amboy council members.
"I want to thank my family and friends for all their support and the council and Mayor Henry as well," Noble said. "I'll do the best for my ward and the city of South Amboy."
Noble began her term as councilperson at the council meeting once the ceremony was complete, and she will serve her position until December 31st. The next council meeting will be on Wednesday, May 2nd at 7:00 PM.