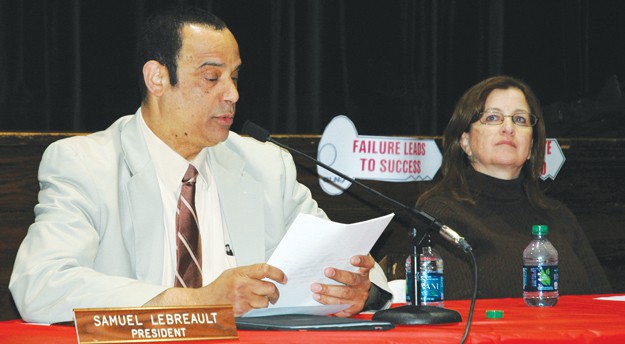 By Joseph L. Kuchie —
PERTH AMBOY – After a one and a half hour private session and a fifteen-minute statement by President Samuel Lebreault, the Perth Amboy Board of Education voted to place Superintendent Dr. Janine Walker Caffrey on administrative leave until a further decision can be reached.
Despite five board members deciding not to vote due to conflicts of interest, the decision was made based on a majority vote. The board then voted Dr. Vivian Rodriguez, the assistant superintendent, as the new interim superintendent of schools in Perth Amboy.
President Lebreault cited over 20 different violations made by Caffrey in his statement, which included failure to communicate with the board on a number of occasions and publicly exposing issues about the school district to the local newspapers. Once the decision was made, Caffrey made a short statement and joined the audience for the remainder of the meeting,
"This has nothing to do with me, this is about a community that is at a crossroads, a community with a long history with corruption in government," Caffrey said. "I will not yield. A superintendent is in charge of maintaining the day-to-day operations of schools and taking care of the hiring of staff. This is not about me, this is about our children and their right for a better education and future."
Due to the large crowd that attended the special Wednesday night meeting, the board allowed the public session to run past the usual sixty minutes. Parents, teachers, and administrators took the podium to express their feelings and concerns over the board's decision, and the responses carried on for over an hour.
Even with the recent controversy surrounding the Board of Education, the responses to Dr. Caffrey's leave were mixed. Some spectators believed that the Board made the right decision, while others like resident Bill Ortiz were strongly against the move.
"You made the correct decision by hiring Dr. Caffrey. Her resume was extensive and she wanted to help our kids," Ortiz said. "This was a political move and you backed off your decision when there was too much heat. You're making a huge mistake."
The city has been in negotiations with the state of New Jersey in an attempt to bring a new high school complex to Perth Amboy, something that would solve the overcrowding problem that students are currently facing. Many of those in attendance believed that removing Caffrey would just push the city farther away from achieving its ultimate goal.
"The state has made it clear that if there is no unity, the school doesn't happen," resident Cecil Graham said. "This town stands to lose, and our kids will lose something we've been working on for ten years because we are allowing this nonsense."
Some residents also believed that Caffrey wasn't given enough time to prove herself to the city, and her removal from the board was unfair to the newly hired superintendent. Although she was brought on for a three-year term, Caffrey has only served 10 months with the City of Perth Amboy.
"We all worry about teacher and student morale, but the morale was already at the bottom before Dr. Caffrey got here," PTO member Donna Stewart said. "You gave her three years, but she's only been here ten months. Change takes time."
Despite this, there were still a good number of teachers and parents who supported the Board's decision to remove the superintendent, and many approved of Dr. Rodriguez's temporary promotion. Linda Nagy, a teacher in the Perth Amboy school district, discussed a situation where Caffrey "bullied" her in a closed-door session and told her to keep quiet about certain things and stop hanging around certain teachers.
"I was pulled into a closed door meeting and was told I can't do things that I'm granted in the constitution. I was told to keep quiet about certain things and to stop hanging around with certain people," Nagy said. "I work at a public school, not a business, and this has become a 'do as I say, not say as I do' environment."
Resident Leslie Rodriguez also believed that Caffrey should be replaced, citing the long list of allegations as grounds to remove her from her post. She praised Dr. Rodriguez and hoped that any of the upcoming investigations would be available to the public.
"When someone comes in and does what she has done, that alone is grounds for what happened here today," Rodriguez said. "I respect the decision made today… and I hope this investigation is made public."
The decision to permanently remove Caffrey from her position will not be made until the Board can further discuss the situation, and the two sides may still enter mediation. Until then, the superintendent will remain on temporary administrative leave with pay.