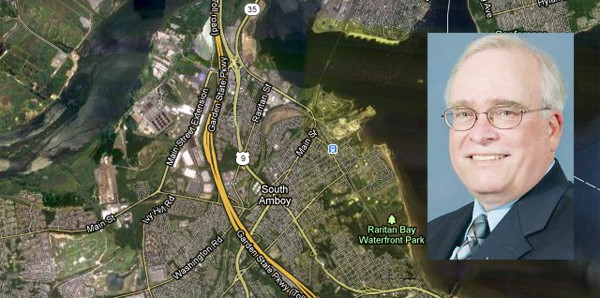 By Joseph L. Kuchie — 
In what turned out to be a relatively long meeting last Wednesday, many South Amboy residents came out to raise questions about the business and housing plans that are being discussed in the area.
There have been a number of business closings in the city over the past few years, mostly due to the economic downturn but for other reasons not many people can explain. Resident Vincent Mackiel of Augusta Street expressed his concerns about local business and asked what the city was doing to help fix the problems.
"I've used many of the businesses in this area and there seems like there is some sort of struggle," Mackiel said. "Are we attempting to attract business…like Woodbridge …so people can stay local and do their shopping in South Amboy?"
Mayor Fred Henry acknowledged the businesses closing down but also reminded residents that the city is always working to attract new businesses to the area. Although the economy still isn't back to normal, South Amboy has continuously listened to business ideas for the future.
"We support businesses in town, but we've had no idea don't know why certain businesses close. Most of the time people can't afford the rent and we don't know how much we can help them because that could cost taxpayers money," Henry said. "Anyone who wants to come to us with a plan, we listen to them… if they have something viable to offer we see what we can work out."
Resident Mary Bouchard of Fourth Street remembered a few years ago when real estate agent Amber Noble came to the council and asked to meet with them to discuss future business plans for the area.
"We did meet with Amber Noble as a group and we went over certain things with business people," Business Administrator Camille Tooker said. In response to this Bouchard said, "If we could ever get a Trader Joe's into this town, that would be the best thing to get into South Amboy."
Resident Brian Rutkowski wondered what happened to old South Amboy businesses and what exactly was happening with the new housing developments in the area. He noted that there were more signs and people then there were businesses in the city.
"What happened to places like Hank's Garage…South Amboy Glass…they got pushed out," Rutkowski said. "There's no construction going on, just signs. We are going to have six million people and no businesses."
Tooker was able to respond to Rutkowski, addressing both the businesses and future housing plans for South Amboy.
"You're right, you could see those signs all through the city. Three years ago the bottom fell out of everything…People who were all ready to go got calls from the banks telling them they had to pull their money," Tooker said. "As for housing in South Amboy, I can tell you that construction sales have tripled in April and development is moving up again."
Rutkowski also questioned the recent activity going on near the South Amboy YMCA, where there are currently just the beginnings of construction. Mayor Henry acknowledged the improvements and discussed the future plans.
"As you're going down toward Frog Hollow, on the right hand side will be Venetian Healthcare buildings and on the left will be more townhouses," Henry said. When asked about the extent of the work, Henry said, "There are obviously certain things that need to be replaced [during construction] but that's all apart of the progress."
On a side note, Henry urged residents to conserve water due to a significantly dry winter and spring in order to have an ample supply for the upcoming summer months. The next South Amboy council meeting will be held on May 16th, 2012 at 7:00 PM.