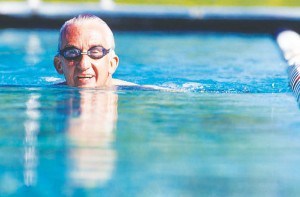 SOUTH AMBOY – The Y celebrates Older Americans Month in May as a way to show appreciation and support for our seniors as they continue to enrich and strengthen our communities. The South Amboy Branch YMCA will be hosting a Senior Health Day on Friday, May 18th to engage seniors in healthful activities together. Seniors throughout the community are invited to participate in the scheduled events that will take place from 8:45am to 1pm at the South Amboy Y, located at 200 John T. O'Leary Blvd in South Amboy, NJ.
Senior Health Day will kick off at 8:45am with an Aqua Aerobics Class in our Pool. Other classes include Yoga at 9am and Senior Fitness at 12pm. At 10am, Craft Artisan Lois Griffin will be here to hold a beading and jewelry making demonstration. At 11am, there will be a "Meet the Doctor" Session with Dr. Ofori-Behome of Adom Family Medicine in South Amboy. Representatives from Raritan Bay Medical Center will be here providing blood pressure screenings and healthy living information. Finally, our Physical Director, Mike Manfre, will be hosting a Technology Q&A Session at 11am.
All community Seniors are invited to join us and celebrate Senior Health Day at the South Amboy Y. For more information, please call 732-553-9622 or visit our website: www.ymcaofmewsa.org.