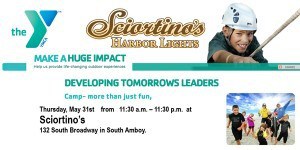 Proceeds Day will be held at Sciortino's on Thursday, May 31st from 11:30 a.m. – 11:30 p.m.
SOUTH AMBOY – Sciortino's Harbor Lights and the South Amboy YMCA are proud to announce 'Proceeds Day' on Thursday, May 31st benefitting the Y's "Send a Kid to Camp" Program. Sciortino's has generously offered to donate 15% of all lunch and dinner bills to the Y in support of camp scholarships to children.
As an extra special treat, entertainment will be provided by talented strolling magician Will Fern from 6-8pm. Will Fern has been performing magic for over 20 years and is most locally known for his strolling magic at restaurants like the Stagehouse and the Frog & the Peach. In 2011, he was named the International Champion of Strolling Magic.