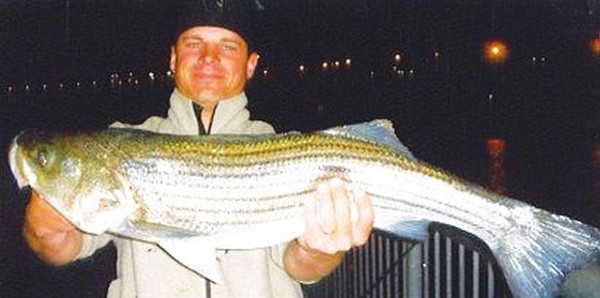 PERTH AMBOY – The less than favorable weather is still upon us. True to the sport many anglers are still hitting the piers and beaches and having great success. With bunker still moving up and down the bay, kill and river blue fish action is great following the bass which are hitting whole big chunks of bunker. Bunker heads have been working the late shift crew and the early birds before sunrise boaters also been trolling with shad umbrella rigs stretch 25 and 30s'. This week we've had more anglers going out for fluke come by the shop gulp minnows, squid strips and xl spearing live killies are the top seller of the week. Boaters are doing well with squid strips, the Peruvian spearing, the 6''gulp minnow and spro teaser setup as well as bucktails.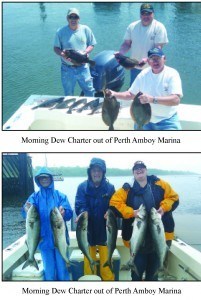 Captain Vinny of the Morning Dew caught some nice fluke and blues this week hitting the right spots for the right fish on his trips. Bob Wood of the Mary Ellen weighed in a 21 pounder at the shop. This week he's having great success. This season he has many catches on fresh bunker – "Great job!"
Having the freshest bait and the most expensive equipment is not the only thing that lands the fish. It's to keep your line fresh and your hooks sharp I favor gamakatsu 8/0 and up.
I recommend strip some line, check your guides and hooks before your each trip. These few tips can help you land the monster you always hear about that got away.
Remember American Bait and Tackle next time you go fishing. Open early and closed late check out our website @americanpride.com or email me with info or comments at americanprdebt@gmail.com the shop is fully stocked with bait live killies.
Tasty Fish Recipes — By Eddy

Fluke Flavors

Start with 2lbs of fresh fluke or flounder. Coat some heavy duty foil with butter. Place fillets and brush with lemon juice crimp foil edges. Lay open on med- hot grill. Don't cover for 4 min. Combine 2 table spoons of lemon juice, 1/2 of cup grated parmesan, 1/4 cup of melted butter, 3 tablespoons of mayo, 3 tablespoons of chopped green onions and 1/4 tablespoon of salt. Brush on fillets. Cook 3 – 4 min. or until fish flakes with fork.