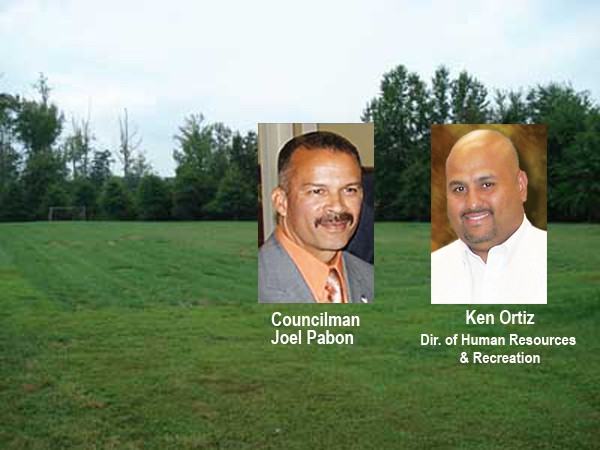 PERTH AMBOY – Salazar who represents the Continental Soccer League spoke before the Council at the May 14, 2012 Caucus Meeting. The League represents 26 teams with over 500 players. Many of the participants are kept away from drugs and alcohol by being active participants in soccer playing. They met with Kenny Ortiz who is the Director of Human Resources and Recreation to plan for using the various fields for their soccer tournaments. Because of Dalton Field needing to be fixed they cannot use that field which puts a hardship on the league.
Salazar said there are two soccer divisions and six games are played on each field every Sunday. Salazar said that twelve years ago the Continental Soccer League donated money to the Board of Ed for the field at Flynn School that the league has never used.
The Continental League has contacted the Board of Education about using the Flynn Field for a 3 week period while the Dalton Field is being fixed and the Board of Ed has not gotten back to them yet.
Councilman Joel Pabon suggested that maybe Water Stadium be used for some of the soccer matches to rest the ball fields that have heavy usage. Pabon also said that Water Stadium would be a great place for a girls' softball league to play there.
Councilman Fernando Gonzalez suggested that the Continental Soccer League utilize the County Parks whereas Kenneth Ortiz replied that the County does provide fields from time to time for that purpose.
August is a busy month where the fields are used 7 days a week. "Dalton Park needs to rotate the fields to save the grass, etc. amongst other things," Ortiz continued.
Salazar also said that the Continental Soccer League has provided College Scholarships for the players and some have become professionals. He personally has been in Amboy for 25 years. Salazar also plans to bring professional players to Perth Amboy to run soccer clinics.
Councilman Bill Petrick was concerned about any trash left over the games. "The large leagues need to have a clean-up crew after the games."
Ken Ortiz replied, "The soccer leagues are very good at cleaning up after their games."