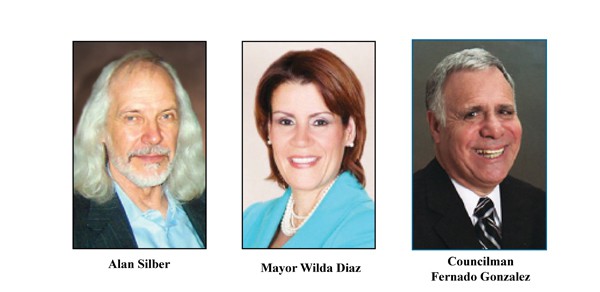 PERTH AMBOY  — "We can't pick and choose what we videotape for news on the public television station," stated resident Alan Silber at the 5/16/12 Council Meeting. He made reference to an event earlier that day to announce the joint fireworks between the Amboy's which he thought was also being used for political purposes. "You have to eliminate some of these political programs," he stated. "I see other programming on Channel 34 not nearly as important as some other meetings that would benefit the community."
Stanley Sierokowski said the present administration made the decision not to televise meetings that had been televised before.
Councilman Kenneth Gonzalez wanted to know if all meetings are being videotaped now. B.A. Greg Fehrenbach said, "Yes they are."
Councilman Fernando Gonzalez said, "It should be a requirement by the State for all meetings to be televised for all to see. He also mentioned that most meetings were previously televised so that the public could see what is going on." He mentioned particularly PARA (Perth Amboy Redevelopment Agency), Zoning, and Planning Board. B.A. Fehrenbach said, "There is also an additional cost and personnel needed to tape all of these meetings. They are having a hard time replacing two part-timers who are gone that used to tape meetings.
Councilman Bill Petrick also interjected that there were funds appropriated for new video equipment which should make editing the programs easier. Cameraman George Bonilla nodded his head, "Yes."
Mayor Wilda Diaz rose from her seat to address the Council and those in attendance in regards to the lack of videotaping for all public meetings. "We will have to show every single meeting because we cannot discriminate. The Historic Preservation Meetings and Library Meetings are not recorded and they are very important. We will have to hire additional personnel. A lot of money is being poured into the Library. I don't object to meetings being shown. This is the most ethical administration. A lot of Board Members are volunteers." Some she mentioned were PARA, UEZ,/BID, MOPA and the Port Authority – "Should I go on? I believe in open government. Our administration is working for the entire community. You never hear people come to the mic to say how the Council recognizes our youth."
Local resident Rickey Aviles said that Channel 34 is a public access channel that is not just showing municipal meetings. If an individual wants to put on a show that is not offensive, they should be able to utilize Channel 34 to show it. It is appropriate to show ribbon cuttings to show that businesses are coming into the town."
Some residents questioned the appointment of Leigh Ann Hindenlang as the City Senior Planner. Stanley Sierokowski wanted to know her certification for this position, who appointed her and where is she currently residing? He also wanted to know the terms of her appointment.
B.A. Fehrenbach replied, "Ms. Hindenlang has a Master's Degree and has 24 months of prior experience in urban studies in Middlesex County and Virginia. She was recommended by other City employees who were familiar with her work experience. She will be appointed as a Senior Planner which is one level below what she is qualified for."
Leslie Dominguez welcomed the appointment of Hindenlang who will be moving into the City. Hindenlang met the requirements that the City posted for this position.