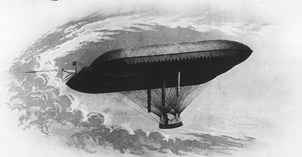 On June 1st 1863, Dr. Solomon Andrews conducted the first flight of the Aereon One over Perth Amboy. This was the world's first successful fully steerable flight! The launch site is now known as Barracks Street. During 1863, Barracks Street was home to the Inventors' Institute.
Dr. Andrews had never flown before, yet despite his lack of experience, Andrews placed full faith in his invention ascending up into the skys. Andrews flew the Aereon as a yachtsman would sail his boat. The flight was a success. On the ground below a Perth Amboy crowd cheered Andrews & his Aereon.
And remember, all this was accomplished decades before the Wright Brothers were ever even born!
John Kerry Dyke