PERTH AMBOY – With the week things slowed down a bit. Illusive bunker made   things tough on some of the anglers. Bunker action was spotted all along the Kill, Bay and River at times little out of reach for the surf guys to snag. Bass are still being caught mostly early mornings and at night. Fresh chunk bunker, bunker heads and live lining has been the bait of choice as Elmer Flores out of Sewaren can tell you with his first striper – a nice 32'' 18lb.  Great job!  Also George Vesterino had two nice bass this week – a 32'' 16lb and a 35'' 20lb off the pier.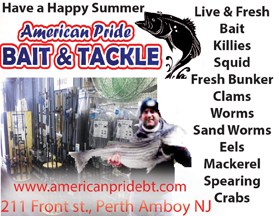 Fluking has spiked this week with more catches and anglers on the hunt the shop has gotten some decent reports with some boaters doing  very well off the Kill limiting out as well as the angle the flats and the boats white buck tails and spearing has been the bait of choice at landing the fish.  The pier and beach anglers seem to be more focused on the bluefish and bass before turning to fluke. Some of the old salts off the pier been getting a jump start on the fluking and showing results the bait fish are plentiful swimming all along the water's edge   and piers.
The blues are still on top dominating all the action.  Fresh cut bunker, metals and plugs basically anything you throw at them will work.  Bunkers keep it fresh and artificial  – keep them moving.
Come see us at the shop.  Fresh bunker delivered daily live killies and more. Keeping Your Bunker fresh!
I had a guest ask me "Tell me how can I keep my bunker fresh all day?  What's the bait shop secret?"  Well it's really not a big deal when buying bunker. You need to understand a few things.  One is they are a delicate fish and heat will destroy them in minutes. Second fresh water or ice will make them soft. Just ice won't cut it. The best way I've found and most bunker guys agree you need a cooler is step one always. You need to make a brine and salt water solution. Then you need to add ice to a slushy consistency. Then you add your fish. Do not over crowed – this is key. Following these steps will guarantee a fresh fish – overall a better bait and will save you money and aggravation.
Remember American Bait and Tackle next time you go fishing. Open early and closed late check out our website @americanpride.com or email me with info or comments at americanprdebt@gmail.com the shop is fully stocked with bait live killies.
Tasty Fish Recipes — By Eddy

Roasted Striped Bass
2 tablespoons good olive oil
1 cup chopped yellow onions
2 ounces pancetta or bacon, diced
1 tablespoon chopped garlic
1 (28-ounce) can plum tomatoes, drained and diced
1 teaspoon saffron threads
1 teaspoon kosher salt
1/2 teaspoon freshly ground black pepper
1/2 cup dry white wine
1/4 cup Pernod, optional
1 (2 to 3-pound) striped bass fillet, skin removed
1 pound large shrimp, shelled and deveined
24 mussels, cleaned and debearded
2 tablespoons chopped fresh flat-leaf parsley
Preheat the oven to 350 degrees F.
Heat the oil in a medium sauté pan and sauté the onion and pancetta over   medium-low heat for 10 minutes, or until the onion is translucent. Add the garlic and cook for 1 more minute. Add the tomatoes, saffron, salt, pepper, white wine, and Pernod, if using, and simmer over medium heat for 5 minutes.
Meanwhile, lay the fish in a 10-by-14-inch baking dish and sprinkle with salt and pepper. Add the shrimp and mussels to the dish. Pour the sauce over the seafood and bake uncovered for 20 to 30 minutes, until the fish and shrimp are cooked through and the mussels are open. Sprinkle with parsley and serve.