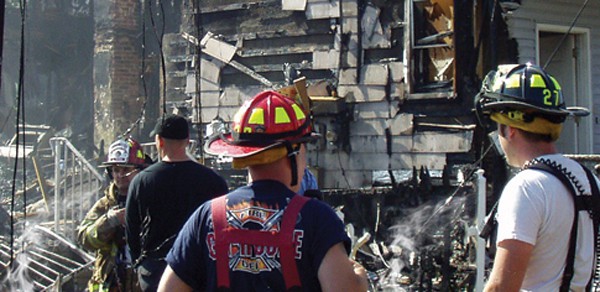 By Manuela Jimenez—
PERTH AMBOY — The lives of more than 50 people changed within seconds as they watched their homes devoured in a 600 block fire, Sunday, June 3, in Perth Amboy N.J., on Cortlandt Street. Fire officials reported to the scene at approximately 4 a.m.
Five homes were affected, four of them, 658,660,662,656 were destroyed. The Gerez family were seriously injured. The husband suffered third degree burns on his feet while rushing out his infant boy, who had minimal arm burns. The wife had second degree stomach injuries. Neighbors say the family is currently stable and treated at Newark hospital.
"I haven't slept or ate anything today because of the incident," said Jose Nunez, age 42, owner of "complete loss home." He said his home was in perfect condition when the fire started. "The fire-hydrants were not working properly when the firemen arrived at the scene," he said.
Nunez said "The Red-Cross" will place his family in a temporary shelter. "I don't know what's going to happen next." Nunez said he woke up to a strong smell of smoke, woke up my wife and children to rush them out prior to the fire-flames. "when I realized what was happening I forgot about my papers and material goods," he said.
Nunez said he didn't know how the fire started but that everything began in his neighbors home (660 Cortlandt St.) "I worried about the safety of my wife and children … nothing else mattered at that point." He said that although he was physically safe he felt devastated because he had invested a lot of time and money into the construction of his home. "We were living the American dream and now I have to start from scratch," he said. He said no words could explain his pain. "It's hard watching all your efforts fall at your feet … but I thank God my family is physically safe".
Jose's son, Randy Nunez, age 15, had scraped knees with ligature, and a bandage on his left hand. He said his knees got scraped after he fell down while evacuating the home.
"I was so nervous, when dad woke me up", he said. He said he was sad and shocked. "I still can't believe this happened … I never thought this was going to happen … never imagined it," he said.
According to the Associated press, police officers investigated one of the homes, concerned because a father and a son could not be located but were found at a local restaurant after the incident occurred.
There were more than 75 firefighters from 11 departments reported to the scene, officers went door to door evacuating neighbors. A neighbor said he believed the fire started by a lightened up cigarette. The cause of the fire is under investigation.
"I've been doing this 30 years and I haven't seen many like this," said David Volk, Perth Amboy, fire chief.