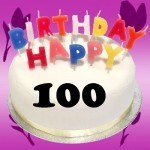 A lady of renown dwells in our town,
We celebrate her 100th birthday with great joy,
In her beloved city by the bay Perth Amboy!
HELEN MURAFSKI is this lady's name,
Her actions and virtues earn everlasting fame!
Helen and late husband Martin were a wonderful pair,
The very happy memories we all share,
God bless dear Helen as we sing Cto L'at!
Mnohaja i blhaja l'it and the rest of all that!
We salute Centurion Helen in our earthly strife,
As her shining beacon lights the way to a better life!
Peter Book a.k.a. Pedro Libro