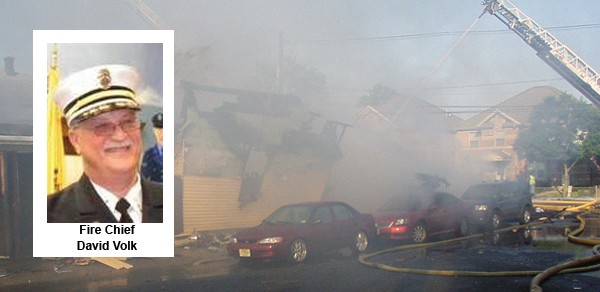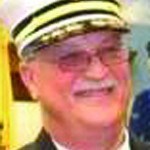 PERTH AMBOY — Fire Chief David Volk gave an extensive explanation to a question from a local resident who lives 1 1/2 blocks from the Cortlandt Street fire. The resident questioned why some of the hydrants in the immediate area of the fire had either no pressure, low pressure or not a drop of water coming out of them.
Fire Chief David Volk explained the reason behind this, "Hydrants in a certain radius are on the same grid. If one hydrant on the grid needs extra water it will pull excess water from another hydrant."
He compared it a similar situation on a smaller scale: if someone has water running, for instance in the kitchen and someone else turns on a faucet in another part of the house, for instance in the bathroom at the same time, pressure from one of the faucets will drop. "That is why you can't pull all the water out of the same grid."
In a phone interview, Fire Chief Volk explained that each hydrant is supposed to get 700 gallons of water per minute. "We had to get water from State Street and West Side Avenue, which have bigger mains and grids."
"The hydrants are numbered and maintained by the water company. The water company doesn't share all their data that they gather on hydrants when they do their maintenance. The Fire Department flushes the hydrants. If is there is any problems with the hydrants that are flushed a report will be submitted to the Business Administrator."
B.A. Greg Fehrenbach stated that he had not gotten any reports stating there were any problems with any fire hydrants.
The hydrant numbers are more of an assistance to the water company and there are over 700 of them. Water fluctuates for hydrants also because of pipe replacements. We have good equipment but you can't plan or design a water system for the size of this fire. Two houses were fully engulfed when I arrived on the scene," Volk stated.
Volk compared this fire to the Harbortown fire (December 2010) where they were forced to go outside the grid because of the intensity of the fire.
Volk also mentioned that, "This was a very intense fire," comparing it to the fire at Water's Stadium in the 1980s that burned down the wooden grandstands including the concession stands, lockers and bathrooms. "You can't plan for a fire that intense."
When asked how old the houses that burned down were, Volk answered, "Of the structures on Cortlandt Street, #654 (which is still standing) was built in 1919; #664 was built in 1899; #660 was built in 1909; #662 was built in 1899; and #656 was built in 1899. They were all Balloon Houses."
(Balloon framing was a popular construction method in the 19th Century up until the mid 1950s.)
911 received the first call at 3:45 a.m. It came from 662 Cortlandt St. "Based on our investigations and interviews there may have been a possibility of the fire spreading because of people trying to put the fire out themselves." Volk emphasized that you should get out of a house or building quickly and close the door behind you. "Everyone was out of the building when we got there."