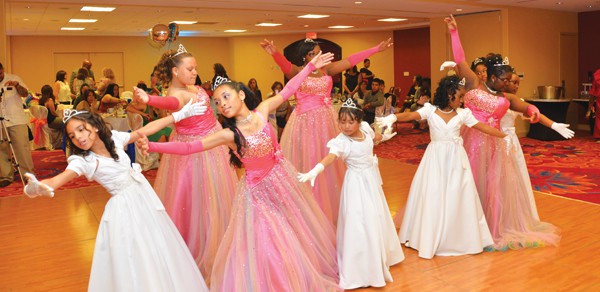 12 Weeks learning social skills and formal ballroom dancing culminates in Grand Cotillion
ISELIN – Students from high schools, junior and elementary schools in Sayreville and Perth Amboy participated in the Multicultural Grand Cotillion, 3 p.m. on Sunday, May 20, 2012 at the Renaissance Woodbridge Hotel, 515 Highway One South, Iselin.
Students engaged in cotillion workshops learning social skills such as proper greetings, table manners, public speaking, volunteerism, bully prevention, preparing for college, personal grooming and the traditional elegance of ballroom dancing. One class was conducted at the Hudson County College Culinary Arts Institute where cotillion students received proper table instruction while being served a full course meal.
Amputee and bone cancer survivor is the story of 10 year old Kaela Cruz was excited about participating in her first Cotillion. She was one of the students dancing in formal gowns and tuxedos in an event that promises to have a highly positive impact.
Sponsoring the Grand Cotillion is the Multicultural Grand Cotillion Scholarship Society Inc. (MGCSS) which was established in memory of Staff Sergeant Johnnie A. Walker and his high school friends who gave their lives serving our country.
Partnering with MGCSS is the Puerto Rican Association for Human Development.
News Release