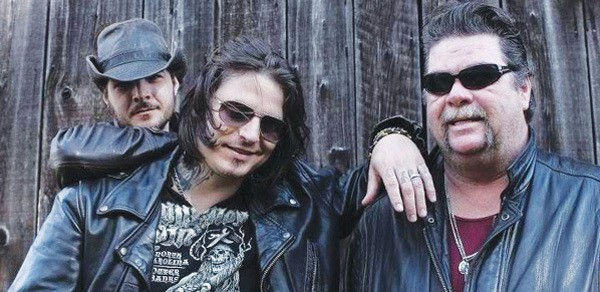 Submitted by Mary Kate Vacca—
SOUTH AMBOY  — Not only will there be a spectacular fireworks show on July 3rd, but get ready for a good ole fashion "All American Hootenanny" with music that will "rock out" the Raritan Bay County Park.
"RORY KELLY" is a 3 piece swamp rockin, blues band, headed by main man Rory Kelly. Triple Threat is adamant in its delivery of exactly what swampy' rockin blues is all about; the core essence of pure southern music.
Rory Kelly drives the force of Triple Threat with his stellar guitar work, powerful vocals and a true captivating, charismatic front man. Possessing a playing ability in a league with prodigies, Kelly is a self-taught musician that picked up the guitar as a boy and strummed alongside his father, drummer and South Amboy born and raised, Mike Kelly. Mike Kelly has quite the back story in thrash metal as well, being part of the infamous Old Bridge Militia of thrash metal fame. His ability to fill out the low end with precision and smooth refinement makes Mike Kelly's contribution to Triple Threat's performances mesmerizing.
Billy Miller, the bands bass player, also a skilled musician, experienced from touring gigs with Voodou and Super Sport, brought the ultimate component needed to round out this dirty rock n' roll trio, forming a exceptional rhythm section with the elder Kelly to compliment the smoldering swagger of Kelly's rock riffs.
In 2010 "RORY KELLY" released their first album, Better than the Blues and soon was recognized by venues as a 'house filler, bringing the house to capacity' and a total crowd pleasing experience.
In March of 2011 they scored a coveted series of showcases with Texas Rock fest, which takes place in the heart of downtown Austin, Texas each year during the world famous South By Southwest music conference. Those showcases brought "RORY KELLY" interest from endorsement companies and a connection with Rusty Knuckles, his label. Summer '11 brought more recognition to "RORY KELLY" as they were thrust into and embraced by the Southern biker circuit. "RORY KELLY"'s new album was released in late Spring of 2012, and has captured the interest of well-known NC radio personality Steve Blanton who will assist "RORY KELLY" in the production of their second effort. Revealing a band edging toward a harder sound, (Don't Shake My) Family Tree, will be released to world-wide distribution through Rusty Knuckles with both US and European tours planned for 2012 in support of the record.
The band's Face book page www.facebook.com/rorykellystriplethreat describes their sound as "swamp rock with a Southern blues influence."
Also performing at this spectacular rock and roll show will be the opening band Shakedown is a newly formed acoustic cover band featuring Christina Kelly, Tom Small and Rich Fuentes…all familiar faces to the NJ cover band circuit. Expect to see this trio expanding and hitting the scene this summer.
Next in the lineup will be the return of "The Bomb Squad". One of (OBMM) Old Bridge Metal Militia bands. Original lineup: John "Boy" Crothers-lead guitar; John Poper-lead vocals; Mike Kelly formally of South Amboy-drums; Mike Bloomer of South Amboy-bass guitar.
The show's sound will be produced by "Basement Audio Productions". Owned and operated by Emerson Jones with over ten years of experience. Emmy Jones is a bass player and a member of the "Rockdaddy's and has performed in a band with Mike Kelly, drummer in "RORY KELLY", back in the 70's.
The "All American Hootenanny" will start at 6pm, Tuesday, July 3rd (rain date July 6th) at the Raritan Bay County Park. Come on down and enjoy a great night of entertainment.