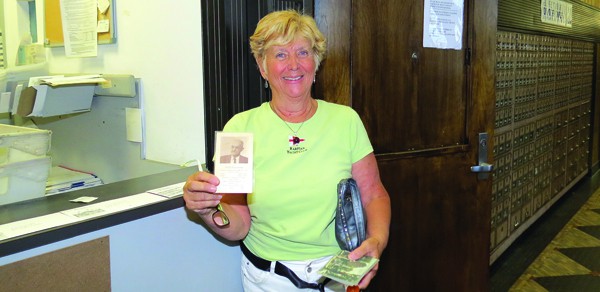 By Vilma Novak —
PERTH AMBOY & SOUTH AMBOY – For so many reasons it was a great Independence Day in Perth Amboy this year. It was a beautiful Tuesday evening and at 6 p.m. Kurt Epps was already in good voice playing the keyboards to a lively audience at The Barge. Museums of Perth Amboy (MOPA) was having an event at the Armory in celebration of our country's founding. People in the street were friendly, joyful, and in happy anticipation of the fireworks to come. It seemed no one was a stranger; all were of a mind to have a good time and watch an extravaganza in the sky.
A century ago, on Independence Day 1912, in Perth Amboy and along the coast to South Amboy, upwards of 20,000 people were gathered looking skyward to witness an extravaganza of another sort. They were there to witness the first air mail flight in New Jersey, indeed, one of the first air mail flights in the country. Since at that time there were few cars and fewer planes, it was going to be a really big deal to see a "flying machine".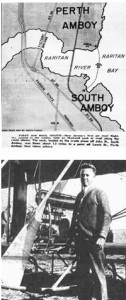 The air mail flight was the idea of South Amboy's Assistant Postmaster, Edwin C. Roddy. Mr. Roddy was also a member of South Amboy's Business Men's Association. The event would be designed to advertise the Raritan Bay area businesses. The flight's destination and what better destination was Perth Amboy, less than a mile away over the water. Perth Amboy's Mayor Ferd Garretson was all for the idea, he wanted to have an Independence Day celebration that would outshine all others. Mayor Garretson was friends with Robert J. Collier, publisher of Collier's magazine. Mr. Collier was one the first to have his own airplane and he was happy to loan his plane to his friend for the event. Mr. Collier's personal pilot was Oliver G. Simmons who was tasked to make the flight. According to Mayor Garretson, Mr. Simmons was none too pleased to have Mayor Garretson aboard, since the more weight, the more risk; hence, the only life preserver on board would be used by the pilot, not the Mayor. The Mayor would only have about 18 lbs. of mail to hold onto in case of an emergency.
The waters were crowded with boats which caused the plane to take off a little late from the South Amboy waterfront near the residence of Congressman Thomas J. Scully. After takeoff, in a few minutes the plane landed successfully off Bayard Beach (near Lewis Street). The first letter was delivered to Col. Theodore Roosevelt, it read: "This is a letter sent to you via United States Air Mail Service. This is the first official air mail service authorized by the Postmaster General in the State of New Jersey and extends to you the greeting of the South Amboy Business Men's Association and the City of Perth Amboy under whose auspices the initial mail service was performed by Aviator Oliver G. Simmons in a Wright-Burgess hydro-aeroplane. Very truly yours, South Amboy Business Men's Association and the City of Perth Amboy"
One hundred years later in 2012, South Amboy and Perth Amboy partnered for an Independence Day celebration and last week, on that night, again all was well.
Much thanks to Perth Amboy Free Public Library for information and photos. The library is home to fascinating information about Perth Amboy's history .
A First Air Mail commorative stamp is available at the Perth Amboy Post Office until the end of the year; bring an envelope and they will stamp it for you at no cost. (this stamp is not for postage)