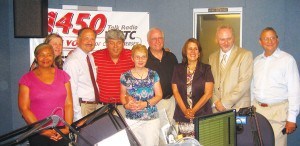 Two things did happen while we were off that we predicted. One: People asked what happened to the Amboy Guardian even though we mentioned that we would be off the week of July 4th. Two: We would be more active the week we were off than if we actually had to produce a paper.
Let's start off with a phone call that we received on June 28th. It came from Bert Baron Director of Creative Services and Program Director of WCTC 1450 AM Radio. He invited us to join them at the radio station when he interviewed the mayors and two councilmen from Perth Amboy and South Amboy. This was our first time being in a broadcast booth during a live show. We were thrilled when Baron plugged the Amboy Guardian on the New Jersey Today Broadcast on July 2nd. The show was to promote the joint venture between the Amboys for the fireworks display on July 3.
Just before the show ended there was an announcement that WCTC Bert Baron would be broadcasting from the Raritan Bay Yacht Club in Perth Amboy again on July 3rd with the mayors and some fo the sponsors of the fireworks display.
We decided to have our videographer do a live taping of some of the broadcast. Unfortunately I received an email at the last minute that he was sick and he was unable to do the taping. Therefore I called up Paul and Katherine to go take photographs of the broadcast. I was enjoying my lunch down at the waterfront when Paul and Katherine drove by so we went back to the yacht club and I decided to try my hand at videotaping some of the broadcast with my android phone. (which I have a love/hate relationship with). Look at www.AmboyGuardian.com for VERY RAW video recording of the broadcast and a brief interview that Katherine did with Bert Baron. (please ignore the first 10 seconds of each video – remember I'm an amateur at this – thank God I don't do this for a living.)
We would like to thank Bert Baron a second time for plugging the Amboy Guardian as he was signing off on his program on July 3rd at the Yacht Club.
I could feel the excitement in the air as I was walking down Madison Avenue along with a throng of people towards Sadowski Parkway in anticipation of the fireworks display.
It was not disappointing. I tried to photograph all the people lined up against the railings, sitting on blankets on the grass, but unfortunately, I could not get my android phone to function properly. But thank God I was able to get spectacular video of the fireworks display.
After the fireworks were over we were happy to see all of the people enjoying themselves at the Barge, Armory and Bayside Creamery. The fireworks went off without a hitch and we look forward to next year's extravaganza.
C.M. & K.M.