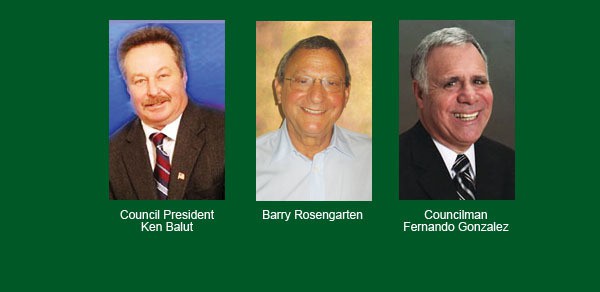 PERTH AMBOY – Bicycle Lanes on parts of Smith and High Streets, Temporary Sidewalks extending into sidewalks on Smith Street, and mid-block bumpouts at crosswalks were just some of the concepts thrown out at the 6/25/12 caucus meeting.
Mr. Lustberg of Arteriel Inc. was commissioned by the BID in November 2011 to explore the possibilities of how to improve Perth Amboy's business district. Lustberg mapped out short and long term goals that he believed would improve to make the downtown area more pleasing to not only the residents but also to any visitors that came into town.
Some of the short term goals would be inexpensive but have a high impact in the downtown district. Lustberg took into consideration the history and cultural aspects of Perth Amboy. He mentioned the need to have appropriate bicycle parking. "Something as simple as replacing the trashcans which are presently in open containers with something that there is a cover would be less upsetting to those who are dining in open air restaurants. Perth Amboy is unique – especially on Smith Street because of the heavy vehicular traffic going all the way down to High Street. Because High Street is very wide, it could be use for a bike lane. The north side of Smith Street has very long blocks which makes it harder for pedestrians to cross to the south side. Therefore people tend to cross in the middle of the street." He proposed mid-block bumpouts with seating there. "Also on Smith Street," Lustberg continued, "There are signs covering up the historic value of the building." He suggested having signs place higher up and protruding outward over the sidewalk from the buildings. "Temporary sidewalk extensions are also a possibility for restaurants that would like to have outside dining on narrow streets. Temporary sidewalk extensions would force the restaurants to give up 2 or 3 parking spaces outside their restaurant. The restaurant owners may have to request this to be done by the Council by ordinance or permit. This would allow for 6 feet of additional space.
Council President Ken Balut said he has seen these designs in other states. "For this to work in Perth Amboy Smith Street would have to become a one-way street because of the congestion." In addition Balut explained that the city does not have outside dining liquor consumption licensees like in other cities.
Lustberg named San Francisco, New York and Chicago as examples of having temporary outside dining utilizing parking spaces outside of the restaurants. Lustberg made it clear that these were only suggestions made before the UEZ/BID. Nothing has been decided yet.
Perth Amboy developer Barry Rosengarten spoke after Lustberg's presentation. He addressed the Council and said the UEZ/BID is looking at signage for the business district and is pursuing a $44,000 from the CDBG for this purpose. "We haven't adopted any of the items that Mr. Lustberg has presented in his presentation." Rosengarten hopes that the Council will work with the UEZ/BID to improve the districts so others can enjoy shopping and dining at a consistent level. "We had a volunteer who was very good with making sure that the facade and signage program was consistent but that particular volunteer left. The program was not followed through after their departure. We have now formed a committee to make sure things are kept on top, but the UEZ/BID funds have dried up."
Councilman Fernando Gonzalez said that he has seen the same faces on UEZ/BID and he agreed with Council President Balut that millions of dollars were misused by the organization. Rosengarten disagreed with that statement. Rosengarten brought up the planter program which involves maintenance and replacement of flowers around the base of trees on Smith Street. "But we have to look at the cost before this plan can be implemented. Programs are listed on a priority basis. "
Council President Ken Balut said, "The traffic studies can be done by the police department. As far as Smith Street is concerned the hours between 2:30 p.m. and 3 p.m. is when the school busses clog up that street. Millions of dollars were used to dig up perfectly good sidewalks. The poorer businesses should be the first ones to get work done to improve their appearances. Smith Street will be required to become one-way for some of the proposals by Lustberg to happen."
Councilman Kenny Gonzalez said that the Council appreciated the creativity and volunteerism of UEZ/BID members. He then thanked them for coming to the Council meeting to present their ideas.