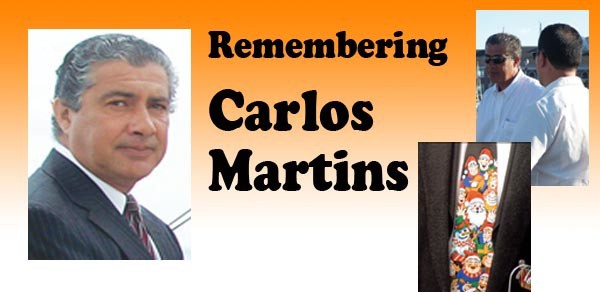 I wish I had taken a ride and about that Christmas Tie
The last time I saw Carlos was on Saturday June 23, 2012 when we were at a reception for the Tall Ship Unicorn for the Sisters Under Sail Program. He appeared more relaxed than usual. And so the next day when I received an email from one of his friends that he had suffered a heart-attack, it was a shock. Last September Carlos suffered a heart-attack while driving and was not expected to live. I remember each time when people would give me updates about his condition each report was worse than the last one. To say he had a miraculous recovery would be an understatement. When Carlos would talk to me about the first time he was hospitalized he said he had no memory of the episode that brought him to the hospital. My colleague also told me that Carlos said that the hospital staff thought that he was a politician because so many people came to visit him in the hospital. Carlos had cheated death last September but this time it was not meant to be. Maybe he was given more time to put his affairs in order.
When I first met Carlos he was a branch manager of Provident Bank in Perth Amboy and also a member a of Perth Amboy Chamber of Commerce.
When I drop off the newspaper at Provident Bank I had to specifically hand him his own personal copy of the paper when he was in the office. If there was someone else in his office when I was bringing the paper in, he would always wave me in anyway to make sure he got his copy. Carlos was not happy when he was made floating branch manager but I still had to make sure to give someone in the Perth Amboy Branch a copy of the paper to send in interoffice mail to Carlos. This was one of his ways to stay connected to Perth Amboy on a weekly basis.
Whenever I ran into Carlos on his visits to Perth Amboy and he would see me walking he would offer me a ride in his red car to my destination. Unfortunately whenever he saw me I was already near where I was going. In hindsight I wished I would have just jumped in his car and said, "Carlos, let's take a ride to the Waterfront,"
In the summertime, Slavko's Harborside Walk was one of Carlos' favorite places to have a quick bite. You could always find a diverse group of people having lunch and engaging in very lively conversations. When you intended to have a ten minute break could very easily turn into a half-hour conversation. I know that for a fact because it has happened to me several times.
Sometimes I would get into a slight disagreement with Carlos. But he always had a way of disarming me with this mischievous little smirk on his face. I hated you for that, Carlos. (Just joking!) But then I loved to joke with Carlos.
If there is one thing that annoyed me about Carlos (And I'll probably get in trouble for this) is that he always had a cigarette dangling from his mouth (except when he was eating). When I would see him with that cigarette I used to think of one my Dad's favorite sayings: "The best way to break a bad habit is not to start it." But Carlos loved his cigarettes and they gave him joy.
As a member of the Perth Amboy Chamber of Commerce he made his feelings known about what direction the Chamber should be going in. As the years went by, I know he was very upset that the Waterfront Festival that the Chamber had for many years had to fall on the wayside.
A Taste of Perth Amboy was a project that Carlos helped initiate in its first year. It proved so successful that they had no choice but to make it an annual event. He was Chairman of The First Annual Taste of Perth Amboy and Cochairman of the Second Annual Taste of Perth Amboy. I remember saying to Carlos, "The first year was so successful maybe you should think about having this event twice a year." He said an emphatic, "No way!" And that it was too much work.
P. S. About that tie – Carlos was at a ribbon cutting of a downtown business in mid-December 2010. When I saw him wearing that tie I took a picture of it and told Bill George that it was going to be to showcased in the Amboy Beacon Holiday Greeting Issue. A couple days after that issue came out I ran into Carlos. He told me about the number of people that came up to him when he would wear that tie and said, "Was that the tie we saw in the Amboy Beacon Paper?"
So in essence I made a local mini-celebrity out of Carlos.
Although Carlos did not reside in Perth Amboy, his heart always did. To those who knew Carlos they also knew that his heart was here and always will be.
C.M.