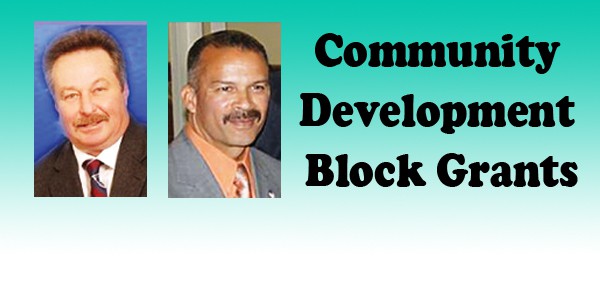 Good for the City — But Can They be Used for Other Purposes?
Hiring of More Code Enforcement Officers & Fire Prevention Programs Discussed as a Possibility
PERTH AMBOY – The Community Development Block Grant Program has helped residents in many ways. Rehabbing their existing homes or releasing money to those who wish to purchase homes that are earmarked for certain neighborhoods in the City.
At the July 9, 2012 Caucus Meeting Annie Hindenlang who is the Senior Planner for the City of Perth Amboy appeared before the City Council in regards to resolutions dealing with any funding from the Department of Urban Development.
Council President Kenneth Balut wanted to know if it was possible to have participants who benefited from these programs speak at a future Council Meeting.
Dave Benyola who is part of the Housing Assistance Program said, "I will be glad to ask some of the occupants who were living in these properties. If all participants were pre-qualified and are happy with the programs and where they are living.
Councilman Joel Pabon was concerned for the senior citizens who are living in town. Many may be qualified do not apply because they have pride and think that they are getting welfare but it is their money that is being used for these programs.
Due to the recent fires in the City, Councilman Fernando Gonzalez questioned whether or not CDBG can be used to educate residents in regards to fire prevention.
B.A. Greg Fehrenbach replied that he could look into this possibility but some of this money is earmarked for certain projects only.
Councilman Fernando G. also said this money could also be used to hire more code enforcement inspectors. Fehrenbach also said, "This may be politically incorrect but people know they are violating illegal housing laws but they don't care. They are looking at it as a strictly economic situation."
Councilman Joel Pabon also brought up the fact that illegal dumping is a big problem and the dumping always seems to be concentrated in certain areas all the time. "In other towns residents call the proper authorities when they suspect illegal housing." He named Carteret and Woodbridge as samples. "They follow through and their fines are very steep. Some towns even have hotlines where you don't even have to leave your name."
Fehrenbach said, " When our residents who sometimes call anonymously when they suspect illegal housing we always follow through on those calls. Sometimes when we show up on these suspected illegal housing projects no violations are found and sometimes violations are found. Sometimes when we find violations on properties we have a hard time locating the owners.
Council President Ken Balut said, "Illegal housing is causing the taxes to go up in the City."