By Eddy Gonzalez —
PERTH AMBOY – Great fishing all over this week. We saw a shift in the fluke fishing. They're on the move as water temps rise. Bigger fish need more oxygen which warmer water lacks.
Deeper waters 40 to 65 feet are ideal during the hot season for those larger fish. For example, Ambros under the bridges the navel pier. Well, you get the idea. Sand Spikers are enjoying some nice fluking. Crabbing: snapper and cocktail blue action with a occasional striper during the night shift. Peanut bunker have been making there runs along the beaches. Snappers: hot on their tail snapper fishing is a great way to introduce a child to fishing. All that is required is a small investment: a pole and a snapper popper. This setup will keep the child entertained because it's cast and retrieve and you need no bait. The popper has a little worm like tube attached to it which to the forever hungry bluefish looks like a easy snack. Along the beachside is the best place to give it a go. To spend some time with the kids and get them ready for the annual kids tournament in September.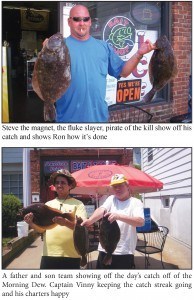 Question: Are soft shell crabs the magic striper bait?
Answer: Yes and no. It has its pros and cons. Yes, fish in general like them but at the same time a con due to that fact so every fish and crab will take their piece. Chances are before a striper will find it not easy to come by. You have to catch it or buy it. It is not cheep and can run up to $8 each. – Big con!
In short it's risky. We all hear about the striper caught on soft-shell crab but what about the other side of the coin that we don't hear. I much rather fry up them bad boys and eat 'em. Try my (tasty recipe)!
This week I had a guest show me a pic and ask me what kind of fish it was ?
It was a northern king fish – a very tasty 'lil fish doesn't grow much. I think the record is 3lbs. It's a common fish here around this time. Many people don't fish for them in this area. More people know about them to the south and fish for them. I myself have caught them down by Second Streete and under the Rte. Thirty Five Bridge. Light tackle: a small long shank hook and a small piece of sandworm and that's all folks! I believe the more people know they are a edible fish they will start fishing for them in this area. When I opened up shop there were similar questions about fluke, porgys and searobbins. Most locals at the time just fished bass and blues. This little guy is one worth giving a shot they also are feisty great fun.
Tasty Recipes

by Eddy Gonzalez

Fried Soft-shell Crab (Easy Style)

Start with 6 soft shells

1 c Milk
1 x Pepper to taste
1 x Vegetable oil
1 x Parsley, minced,fresh
1 ea Egg, beaten
1 x Salt to taste
1 x Flour
1 x Lemon slices

1. Wash cleaned crabs well.

2. Mix egg, milk, salt and pepper; soak crabs in mixture.

3. Coat crabs with flour, then deep-fry in hot oil until brown.

4. Drain on paper towels; garnish with lemon slices and sprinkle with minced parsley. NOTE: Wonderful to serve at a picnic or backyard supper or while reading The Amboy Guardian – Enjoy everyone!