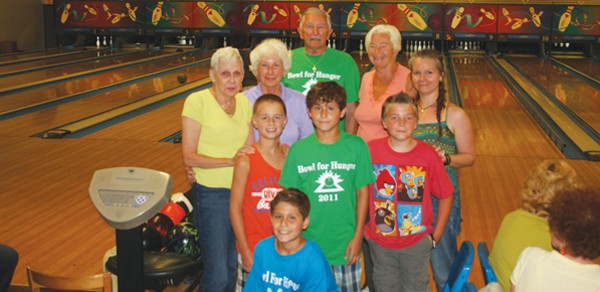 19th DISTRICT—Assemblyman Craig J. Coughlin in partnership with the Raritan Bay Medical Center Foundation and Middlesex Water Company held the Second "Bowl for Hunger" on Tuesday, July 17, 2012. Over the course of four hours, approximately 350 bowlers participated in the annual charity event. Like last year, the event featured a double session, 5:30 to 7:30 PM and 8:00 to 10:00 PM, in order to accommodate the increased demand to participate and opportunity to raise more money for area food banks.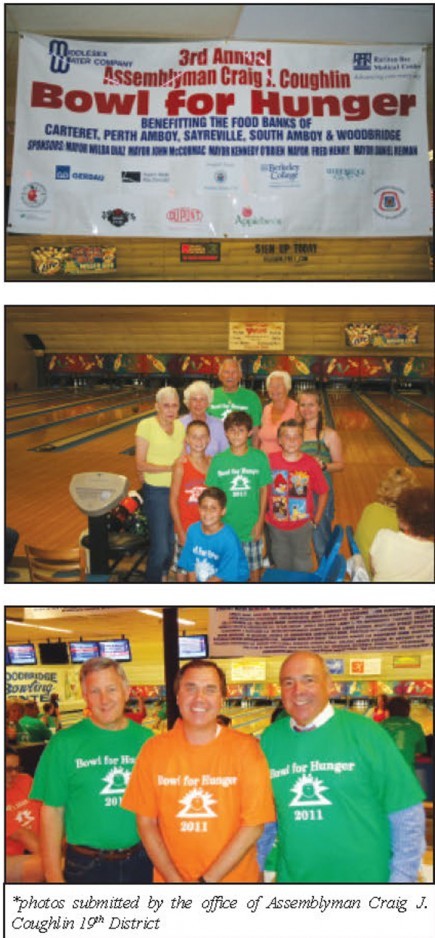 Together, Assemblyman Coughlin, Michael D'Agnes, President and CEO of Raritan Bay Medical Center, and Dennis Doll, Chairman, CEO, and President of the Middlesex Water Company praised and thanked the 350-plus group of bowlers for supporting the area's 30 food banks through their participation in the night's event. While all pledges and donations are still forthcoming, the event had raised approximately $14,000 as of Monday. Interested community members or businesses still wishing to make a donation to the "Bowl for Hunger" cause should contact the Raritan Bay Medical Center Foundation at 732-324-5374.
Notable attendees and bowlers included Raritan Bay Medical Center President Michael D'Agnes, Middlesex Water Company President Dennis Doll, Senator Joseph F. Vitale, Assemblyman John S. Wisniewski, Woodbridge's Mayor John E. McCormac, Perth Amboy's Mayor Wilda Diaz, Sayreville's Mayor Kennedy O'Brien, and members of the Woodbridge Municipal Council.
All five Mayors of the 19th Legislative District honored their pledges to once again support the Bowl for Hunger—Mayor Daniel J. Reiman of Carteret, Mayor Wilda Diaz of Perth Amboy, Mayor Kennedy O'Brien of Sayreville, Mayor Fred Henry of South Amboy and Mayor John E. McCormac of Woodbridge.
Assemblyman Coughlin, Presidents D'Agnes and Doll thanked the combined 65 corporate and individual sponsors.
This year's event encouraged corporate and individual sponsors to donate $500 or more in order to secure the company logo on the Bowl for Hunger tote bag that is provided to all participants. In total, nine corporate sponsors took advantage. The corporations included, Applebees, Assemblyman John S. Wisniewski, Berkeley College, DuPont, Gerdau, Hatch Mott MacDonald, New Jersey Dietetic Association, Northeast Regional Council of Carpenters, Shannon Rose Irish Pub, and Woodbridge Center Mall.
There also were corporate and individual sponsors donated at least $100.00 to the fundraising cause.
News Release