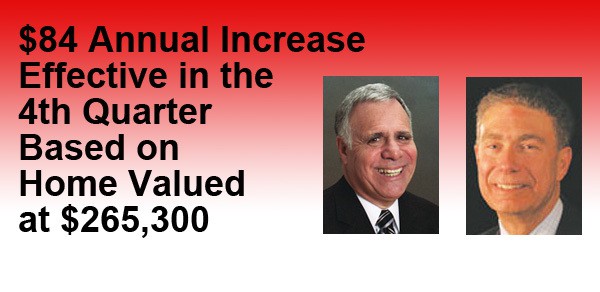 $84 Annual Increase Effective in the 4th Quarter Based on Home Valued at $265,300 Credits from Tax Board Will Make Final Determination
PERTH AMBOY – The amended budget passed by a vote of 4 to 1 with Councilman Fernando Gonzalez as the only "no" vote. Councilman F. Gonzalez has stated many times in the past at Council meetings that he voted "no" because of what he thought was unfair assessment of property taxes. This all stemmed from the fact when certain neighborhoods were granted property tax reductions. Residents who lived in those particular neighborhoods automatically had their property assessments reduced without having to put in appeals.
Business Administrator Greg Fehrenbach grew irritated when Fernando Gonzalez again stated how unfair the budget was to all the home owners as a whole. At that point Fehrenbach chastised Fernando Gonzalez and said, "I am getting sick and tired of this. You've had an agenda for a long time."
Fernando responded to Fehrenbach's remarks telling him, "I have looked at the neighborhoods where the assessments were lowered and not all the properties were the same size." Fernando further stated, "I believe it is unfair what has happened here."
Fehrenbach said, "You can file charges against the assessor and County Tax Board."
This caused Council President Kenneth Balut to say, "The State Tax Board did the lowering of the assessments in these neighborhoods. Some people got their property assessments reduced, even when they didn't file for one. They just happened to live in a neighborhood where this occurred."
Councilman F. Gonzalez had stated in a previous meeting that he was surprised when he found out that he received a reduction in his property assessment.
Mayor Wilda Diaz also benefited from this reduction but chose not to take it. She had stated at another meeting that she had discussed this with her husband and together they agreed that this is the right thing to do.
Later that evening resident Alan Silber made his feelings known during about what occurred between Fernando Gonzalez and Business Administrator Greg Fehrenbach. Alan Silber stated, "To chastise a member of the Council is wrong. The only one who doesn't have an agenda is Joel Pabon unless you are talking about baseball fields. Go on Lee Street and see how the houses fluctuate in size. Although the properties are different sizes, they still got the same amount of money off of their assessments."
Councilman Kenneth Gonzalez wrapped up the Budget Meeting with the following statement: "I hear passions from both the audience and Council Members. We are put in a difficult and unenviable position. In the last two years the budget has been cut and then we see a tax increase. There have been cuts in the police and fire departments. No replacements from these departments have been made when there are retirements. Large corporations are coming into town to help the City with the tax base. I don't believe that people should be chastised for their beliefs. But I do believe that this is a fair budget."