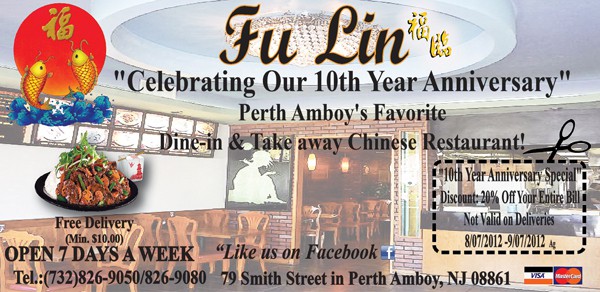 PERTH AMBOY – Fu Lin Chinese Restaurant is located at 79 Smith Street in Perth Amboy. They are celebrating their 10th anniversary in Perth Amboy. Su Miao, the daughter of the family who owns Fu Lin, discusses the success of the restaurant.
AG: Congratulations in your 10th Anniversary in the Perth Amboy Location, but did the restaurant originate in Perth Amboy or did you start somewhere else? If so, where?
FL: Our family owned Chinese buffets in Montana, Wyoming, North Dakota, New York was the most recent location prior to Perth Amboy.
AG: What does Fu Lin mean in English and why did you choose that name?
FL: Fu in Chinese means Good Fortune and Lin means to arrive and/or land. So it embodied my family's desire to sink our roots into Amboy and meet good fortune.
AG: Who originated the family business? Do you come from a long line of restaurateurs or does the family have other business interests, if so, what are they?
FL: Our family originated from Fujian Province, China, which boasts a long history of entrepreneurship throughout history. Many Chinese descendants from Latin America, Europe, South East Asia and even Africa are from Fujian roots. Restaurant business is a popular "entry level" because it does not demand educational expertise but do require due diligence and long hard hours, but those who don't mind the sweat and effort will usually find a comfortable living through their hard work. And those who know our family throughout the years know that we work HARD.
AG: What made you decide to open up a restaurant and why Perth Amboy?
FL: A family friend owns some investment properties in NJ and my father was invited to scope them out for possible business locations and he was instantly attracted to the gorgeous waterfront. It was also a good size with a healthy number of competition, then Perth Amboy had 14 Chinese restaurants and the number has grown since. But my father did not worry, he believes in providing the best and the customers will come.
AG: How many employees do you have and are they all family?
FL: The whole family works in the restaurant and my baby brother practically grew up in the restaurant. I also clock in my fair share of hours. But I think it helped me build character and a great work habit. Since graduating from Boston College, I have been working in media advertising in firms across Morristown, New York, and now Shanghai, China. But I always make sure I come home during my breaks to do some more "character building".
AG: What differentiates you from other Chinese restaurants?
FL: The belief in providing nothing but the best. It is evident from decor, food, and service that we spare none to make sure our customers are satisfied. We are the first and still only Chinese restaurant in town with a full dining area complete with chandeliers and cherry wood furniture. We are the first Chinese restaurant to pack our take outs in microwaveable and reusable containers so if our customers want to take their food home, it can be convenient heat up in an instant. And we might not be the first in this arena but we are set to keep it that way, our produce comes everyday of the week besides Sunday (food companies close on Sundays) to insure our food is the freshest. And we always cook to order and Nothing is pre-made to guarantee freshness. Last but not least, all the sauces are made according to my father's recipes he accumulated over 30 years in the business.
AG: My favorite item on the menu is your mother's special honeysuckle tea which she only allows you to drink in house – not take out. Why is that?
FL: It is not fresh taken out.
AG: What is the most popular menu item?
FL: General Tso's Chicken and Shrimp Lo Mein are our most ordered item. The General Tso's is succulent pieces of boneless chicken battered and deep fried once and then again for crispness. Then the crunchy fried pieces goes into the wok with a generous dose of our house special garlic sauce for only few seconds before serving to avoid compromising the crispiness. It is usually serve over a bed of steam broccoli accompany by white rice. But the most popular and economic way it's sold is in a combination platter with pork fried rice and an egg roll.
The shrimp Lo Mein is my favorite because it's delicious and very healthy too. Fresh vegetables sauteed accompanied with a generous portion of shrimps and stir fried with egg noodles. It is a great balance of vegetable, good protein, and carbs that leaves me satisfy but not too groggy after a meal.
AG: Do you have any other locations besides in Perth Amboy? Any plans for expansion in Perth Amboy or in other locations outside of Perth Amboy.
FL: We thought about it but didn't want to pursue it because it would mean separating the family as Fu Lin is a strictly family-run business. And also we think that if we spread ourselves too thin, we would compromise our quality and we definitely would not risk that. Therefore, there's no expansion plans in the immediate business.
AG: What do you find the easiest and the most difficult part of being in the restaurant business?
FL: The most difficult part is the hours, hours, and long hours. Our restaurant is open 12 hours a day and seven days a week. We have only had two Whole family trips in the past decade, one for my uncle's wedding, and one for my college graduation. But knowing that we are doing good business and serving great food does make it worthwhile. The easiest part? It's nice to have the family together.
AG: Do you plan on adding any new items that may be unusual that you do not expect to find at a Chinese Restaurant?
FL: We don't know, yet. That's why I am in the process of creating a new website and also a Facebook page. We want our clients to tell us what we can do better. There are already a dozen posts online and we are rank #1 on Google and Yahoo for Chinese food in Amboy. The new website will offer a more interactive platform for us to hear from our customers and become better in serving their needs. So please keep your eyes and mouse ready to browse our new website launching this month.
AG: What do you attribute to your success?
FL: We cook food the way we like to eat. Fresh, clean, delicious. In an environment that we want to eat in, clean and inviting. And with service that makes us feel at home, family-oriented and friendly. So far, I think we have been living up to our standards but we are always looking to exceed them.