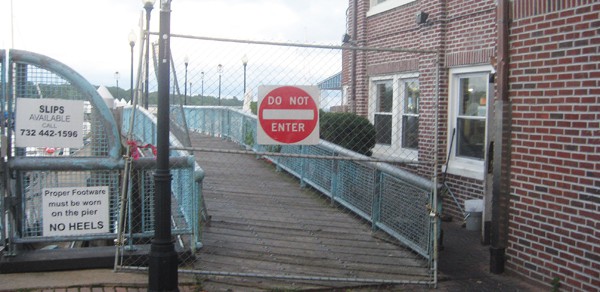 Cost of South Pier Repairs Disputed

PERTH AMBOY – Photo 1 – Chairman of Port Authority Michael George displays the differences in bolts, The bolt featured on the left are the ones that the Port Authority used which George stated are superior to the ones that are being used by Hatch Mott McDonald Engineers (bolt on the right) –
Photo 2 Pier next to Armory is closed to the public,
Photo 3 – The portion of the pier that jetted off to the right side is no longer there,
Photo 4 – Note the damage next to the Armory,
Photo 5 (page 2) – Part of the walkway that still in need of repair. All pier photos taken 7/30/12 *Photo of Michael George by Carolyn Maxwell *Pier Photos by Paul W. Wang –
To Repair or Replace what would be most cost effective? Mr. Mainberger from Hatch Mott McDonald Engineers went before the Council to discuss the condition of the South Pier that was heavily damaged during storms from the last two years. The piers in question are located from the Armory Restaurant on Front Street to the Marina. According to Mainberger 35 piles were in such poor condition that it was not cost effective to do repairs. He recommended demolishing the piers and the cost involved which would be in the range of about $160,000. He also argued the case that it was not cheap to get rid of the stuff because it was not reusable referring to the piling and timber.
The first contract that his firm presented to the Council was for $120,000 based on a FEMA evaluation. FEMA required an evaluation/documentation on the condition of the piers before they were damaged. He also said that the City will receive some monetary credit from the first contract.
Chairman of the Port Authority Michael George went before the Council carrying a duffel bag with him that contained bolts and stakes to show the Councilmen what the Authority used to repair their pier. He stated that money was spent from the Port Authority Budget and not the City's for their repairs.
"The group that the Authority hired went underwater to inspect our pier. We have better bolts and only made a $5 profit on each bolt." Chairman George said, "The City is being overcharged for repairs by the engineers. I think the pier should be rebuilt by using different materials. Inspect the South Pier thoroughly before demolishing it first."
Developer Barry Rosengarten said, "The pier was elevated to protect it from severe weather elements. Some of the piles were used in 1929 when the new piers were constructed. In the years 2010 through 2011 the piers were constructed correctly. I agree with Mr. George's evaluation."
Business Administrator Greg Fehrenbach said, "The cost and longevity of the pier is in question."
To that Mainberger replied, "The extra $100,000 that the Council approved was because the piling materials required have changed and are more expensive. Our bolts will be able to support more weight."
Fehrenbach also told the Council, that Mainberger is indicating that the City should be looking for funding (grants) to offset the cost of the South Pier work.