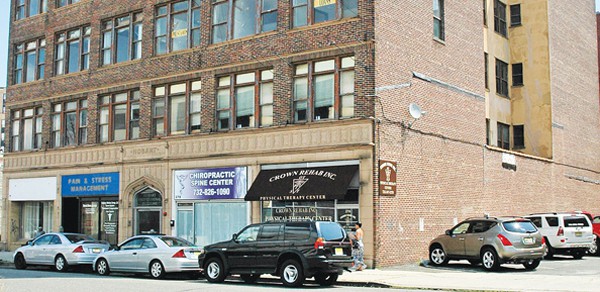 Will Site Add to Parking Problems & Congestion?
PERTH AMBOY  — The Planning Board met in June 2012 to discuss an application by the owners of the dilapidated building at 280 Hobart St. There was a subsequent meeting attended by Members of the Planning Board, P.A.R.A., the Business Administrator Greg Fehrenbach and a representative from the City Council. At that meeting there were two primary concerns at hand pertaining to the plans for the rehabilitation of the building
This had to do with the size of the units and parking. P.A.R.A. wanted small units to reduce the number of children that might occupy the apartments. The Planning Board wanted larger units. The decision was made to have the units that were one bedroom 500 sq.ft. and the units that were two bedroom 800 sq.ft. There would be one parking space per unit or bedroom which would be a total of 40 parking spaces. Parking would be included on or offsite. The options discussed were parking at the Jefferson Street Parking Deck or Train Station by lease by the City. The occupants would not have residential parking permits.
Fehrenbach said that there would not be sufficient parking on Hobart Street. Council President Balut was displeased with the situation, especially when he talked about 30 units with those dimensions, "It would be like a jail cell. There would be no place for them to go for recreationan."
Councilman Fernando Gonzalez agreed with Balut by saying, "The downtown is not the place to create more congestion. You can be creative and maybe have more commercial than residential units in that area." Balut also said, "We destroyed our downtown by replacing offices with residential units on top of businesses."
Councilman Joel Pabon disagreed with fellow Councilmen F. Gonzalez and Balut by stating that, "People use the parks and benches in the downtown area to sit on."
Fernando piped up by saying, "That park (Fink Park on the Corner of Madison & Smith Streets) is up for sale."
Councilman Ken Gonzalez brought up the fact that there are many concerns about King Plaza when it was being built, "But it turned out to be a good fit in the High Street neighborhood."
Councilman F. Gonzalez took umbrage with Ken Gonzalez's statement and said, "In the beginning King Plaza had problems but Eddie Trujillo did a very good job at getting it under control."
Getting back to the issue at hand of 280 Hobart St., Councilman William Petrick said, "That building is currently a disaster. It is being underutilized. It would have been great if the Jewish Renaissance (located directly across the street) had bought that building for medical space. I don't think that the owner of that building (for business rentals) could sell that space.
F. Gonzalez said, "I believe I can get offices back into this town."
Pabon stated, "We are talking about one small building and you are talking as if it is going to destroy the whole town! Our downtown district is huge!" as he rattled off Smith Street, Amboy Avenue, New Brunswick Avenue and State Street as examples.
There was also a concern about having the residents of the building parking at the Jefferson Street Parking Deck or the Train Station. Council President Balut said, "A person living at 280 Hobart St. may have groceries they would want to unload right in front of the building. I don't think they will want to walk from the train station or the parking deck."
K. Gonzalez who has a law office on New Brunswick Avenue whose back entrance leads to the Jefferson Street parking lot said, "To walk from that lot to 280 Hobart St. would take about 20 seconds. He also acknowledged that the Amboy Mall (when it's open) would make the walk to Hobart Street a little bit shorter, "But the mall is closed during the evening hours."