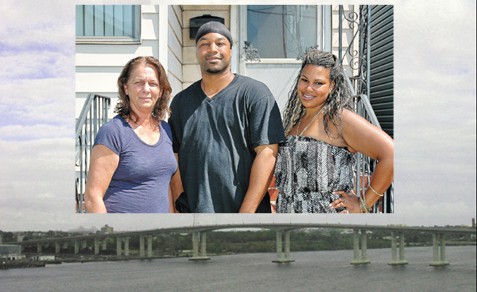 "Something Just Wasn't Right"
THE AMBOYS — At approximately 7:20 p.m. on a Sunday evening a couple of weeks ago, Terry Johnson and his friend, Melissa Lavarin were driving over the Victory Bridge heading southbound. Johnson noticed a young man standing at the highest point of the bridge and remarked to Lavarin that, "Something just didn't look right."
As they backed up their car Johnson noticed the young man had already climbed over the rail in an attempt to commit suicide. Johnson had the presence of mind to calmly talk to this young man to find out what exactly was troubling him. Johnson was interested in hearing what the young man had to say without lecturing him. The young man told Johnson, " My life is messed up and not worth living."
In the meantime Melissa Lavarin asked the young man if he was on any medications. The young man indicated that he was on an antidepressant but he had not taken any that day.
As Laviran spoke to the young man Johnson was on the phone to Phyllis Skelly who is the grandmother to his grandson. The young man noticed Johnson on the phone and asked if he was talking to the police. Johnson replied, "No," to not further distress the young man. The young man was troubled about taken into police custody.
In actuality, Phyllis Skelly had disconnected from the call to Johnson to call the police department.
Johnson continued talking into the phone as if he were still connected to Skelly.
Finally Johnson and Lavarin were successful in talking the young man to come off of the railing and back onto the bridge sidewalk.
When the police arrived, the young man offered no resistance as he was handcuffed and placed in back of the police vehicle.
When Johnson questioned the police as to what would happen to the young man, the police replied that they would be taking him to a crisis center. Fortunately there was a happy ending to this particular incident. Unfortunately, there have been too many incidents that have ended tragically.
At a previous Perth Amboy Council Meeting, Resident Dot Daniel remarked, "When a person attempts to or commits suicide they put all emergency personnel who respond lives at risk. That is something that every citizen should be concerned about."
Fortunately, for this young man Johnson had the instinct to know that something just didn't look right. He could have continued on to his destination, but he chose to follow his instincts and this young man did need help.