New Jersey is the one of the few states in the Union that has both the Shore and the Mountains. I grew up enjoying both.
My most favorite place in the world is the beach and there's nothing like the Jersey Shore. When you go to other states in some beaches there's not even sand (and there is a lot of rocks) on the beach. The New Jersey Shore is special. There's Point Pleasant, Belmar, Bradley Beach, Atlantic City, Long Beach Island, Sandy Hook, Seaside Heights, Wildwood, Cape May, etc. Something for everyone. A day at the beach costs $7-$8 (in some spots) per person. You can bring your own food or buy your food and enjoy the day.
There is nothing like the fresh ocean breeze and enjoying the salt water. Seaside Heights and Wildwood have a great boardwalk as does Atlantic City. It's something everyone can enjoy.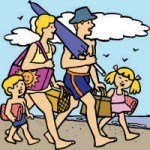 If you don't like the shore scene, New Jersey offers the mountains as well. Up in northern New Jersey (Sussex County) there are farms, antique shops such as those in Lafayette and there is fishing and swimming in the lakes. If you want a real country fair check out the New Jersey Farm and Horse Show in Branchville, New Jersey. It starts the first week in August every year and lasts 10 days.
Many people in Central Jersey enjoy the Middlesex County Fair and the QuickChek Balloon Festival. Both events are annual and are family orientated.
We live in a State where there is a lot of activities to enjoy. Just check out the Amboy Guardian for local events.
New Jersey has it all. In New Jersey there are all four seasons. In the fall there are hay rides and in the winter up north you can go skiing. How many people you know that moved to Florida or California come back to visit because they miss all four seasons?
And if you don't like either the shore or the mountains – We're just a hop, skip and jump away from New York City.
To learn more about what New Jersey has to offer visit your local rest stop or stop in Cheesequake Park or one of the many other local parks. Or check out hotspots on the Internet.
K.M.