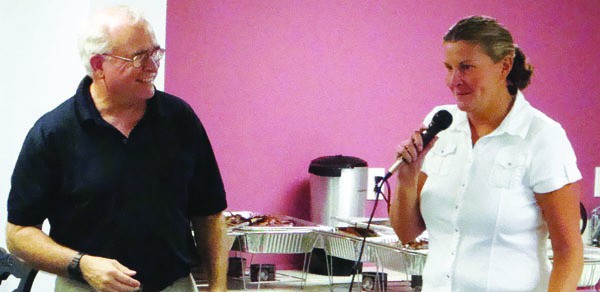 By Beverly Samuelson—
SOUTH AMBOY — On Thursday, August 30, 2012 2nd and 3rd Ward Candidates: Christine Noble (2nd Ward) and Zusette Dato (3rd Ward) who are running for Council appeared at a luncheon at Shoregate Senior Center. Noble who finished out the term of her cousin, Mark Noble who resigned earlier in the year is seeking a four year term. Dato is running for a four year term replacing William Schwarick who is not seeking reelection.
Also in attendance was Councilman Mickey Gross, Mayor Fred Henry and Business Administrator Camille Tooker . About 20 residents from Shoregate Community Center attended the luncheon. Mayor Henry introduced members of his administration to the residents. He spoke about the future of South Amboy and announced that two more luncheons are scheduled later in the fall, one at the YMCA and one at the old Senior Center. He also thanked former Mayor John O'Leary and told the residents he will keep him around to do more work for the city.