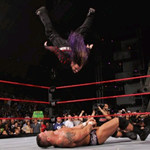 National Pro Wrestling Superstars returns to the South Amboy on Saturday night September 22, 2012
SOUTH AMBOY — Popular tri-state pro wrestling promotion National Pro Wrestling Superstars returns to the South Amboy, NJ area on Saturday night September 22nd at 7:35pm, with their first ever show at the Cardinal McCarrick High School Gym (310 Augusta Street, minutes from Routes 9 and 35), in a benefit fundraiser for The Cardinal McCarrick Touchdown Club.
Topping the bill for this huge show will be no less than *three* (that's right, three) former WWE & ECW TV stars… "Dastardly" Danny Doring… the original "Innovator Of Violence" Tommy Dreamer… and pro wrestling's hair stylist extraordinaire, the one and only Brutus "The Barber" Beefcake.
There will also be guest appearances by McCarrick High School's Coach Hills and Mike Lange, and much more.
Tickets are only $20 for ringside seats and $18 for bleacher seats, and are available at the following local outlets:
South Amboy: Foodtown, 611 Bordentown Avenue (off of Route 35) Krauszer's Convenience Store, 200 North Broadway (corner of Main & 2nd)
Parlin: Mo's Barber Shop, 777 Washington Road (in the Quick Chek Plaza)
Parlin Bagels & Grill, 499 Ernston Road (in the Mini Mall)
Sayreville: Minit Mart, 80 Main Street (north of Washington Road)
I & K Food Shop, 3109 Bordentown Avenue (corner of Cheesequake Road)
Tickets are also available by calling the NPWS box office at (732) 888-1704. All major charge cards are accepted, and group rates are available for groups of ten or more.
Press Release