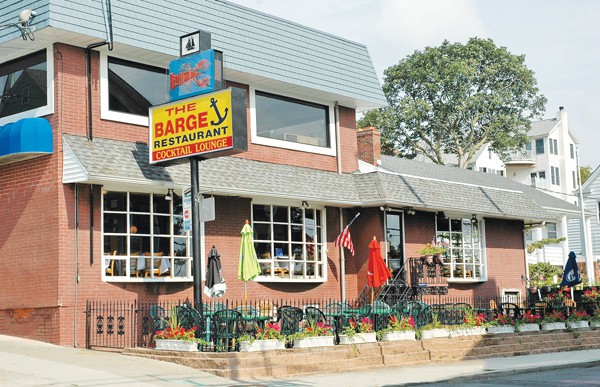 The Barge Celebrates it's 83rd Anniversary
By Katherine Massopust
PERTH AMBOY — Over 83 years old, with its beginnings in 1929 the Barge is a modern day landmark in Perth Amboy. The menu has never changed over the past 40 years and fresh seafood, prime meats and Maine lobster have remained a staple.
Back in 1925 through 1950 the Barge was a floating restaurant and used to be known as Brownie's Barge. It served the catch of the day. In 1951 a fire destroyed Brownie's Barge so the restaurant was rebuilt on the shore near where it was docked. Over the years the Barge went through several different owners.
Presently, the Barge is owned by Alex Vosinas and his father-in-law, George Nickolas. Alex was born in Sparta, Greece and came to the United States at age 7 in 1969 and lived in Perth Amboy until 1996 when he moved to Metuchen. George Nickolas was also born in Sparta, Greece but moved to a waterfront town in Athens to become a mechanic to work on the cruise ships. In 1956 (George was 18), his uncle who lived in Perth Amboy and owned Coney Island Restaurant sponsored his father, George, and two other siblings to come to the United States.
George worked as a dishwasher in Coney Island until the cook retired so George's uncle trained him as a cook. George and his brother later bought Tom and Maria's Restaurant in Edison and in 1981 they bought the Barge which he now owns with Alex Vosinas, his son-in-law. Married 50 years to his wife Dolores, George has two children, daughter Callie Ann (married to Alex) and son, Christopher.
When he was a young man, Alex worked as a busboy in the Barge. Alex's father, George worked as a cook at the Barge for 40 years while his mother, Stella worked at Amboy Knits. While in high school, Alex learned to be a cook at the Barge. Alex graduated Perth Amboy High School in 1980 and then eventually owned the Barge in 1993 when he bought one of the partners out.
Presently, at the Barge, Alex serves as cook, host and maître'd. Alex feels it is an honor to be associated with a business that has been established for over 87 years. "Tradition keeps going on. Customers keep coming back and they love what we have to offer."
What makes a successfully restaurant? Alex answers, "Three things: 1) Price, 2) Food, 3.) Prompt Service. A successful business takes a lot of hard work, long hours and an excellent staff." Alex is proud to state, "We have staff members who have worked here for over 40 years. The average time someone stays is 10 years. We believe in taking care of our staff as we take care of our repeat customers. The staff is dedicated to their work and to the success of the restaurant."
The menu offers a variety of seafood as well as other dishes. Some of the menu items include Broiled Fresh Flounder at $11.95, Broiled Salmon at $11.95, Broiled Red Snapper at5 $11.95 all served with potato and salad to name a few. The Barge features Early Bird Specials (before 4 p.m.).
The interior of the Barge Restaurant is decorated with murals from local artist Tom Ward. The Barge sells Ward's paintings as well. There are some paintings from local artist Francis McGinley in the bar which were gifts from the artist. The Barge also is decorated in nautical decor to reflect the atmosphere of the Waterfront. Alex had the front patio constructed outside for outdoor dining in 1994, which the Barge has live entertainment and a great waterfront view. He also had the upstairs apartment (where the former owners lived) converted to a dining hall for parties in 1997.
The Barge has hosted a variety of clubs in Perth Amboy including the Women's Club, The Royal Garden Club, Kiwanis Club, Lion's Club, etc. all have had their meetings and eaten at the Barge for lunch at Club rates. The Barge hosts over 100 parties a year including baby showers, bridal showers, birthday parties, reunions, corporate parties, retirement parties, etc. The Barge caters on and off the premises for any occasion with an assortment of menus to choose from.
Alex Vosinas has taken part of Op Sail 2000, the annual Raritan Yacht Club's Sail to Fight Juvenile Diabetes, Muscular Dystrophy Association events, and the Louise Simon Foundation for Cancer. He is a supporter of Perth Amboy's Concert's By the Bay and the Proprietary House Association. He is an Elected Member of the Board of Trustees at St. Demetrios Greek Orthodox Church in Perth Amboy. He and his wife, Callie have two children: George and Nickolas.
What does Alex cook at home? "I make whatever my wife and kids want – mostly lobster and shrimp."
Alex Vosinas supports practically all of the City events as well as many charities. "And anything else I'm called upon," he states. Alex Vosinas has won Entrepreneur of the Year on October 18, 2001 by the Perth Amboy Chamber of Commerce, and an Award from Veteran's Voice in 2007, and both Alex Vosinas and George Nickolas won Businessmen of the Year from P.A.M.A on April 12, 2011 and for their award received a Citation from Perth Amboy Mayor Wilda Diaz, New Jersey Senator Joe Vitale and Assemblyman John Wisniewski. The Barge also won for Best Entree in The 2nd Annual Taste of Perth Amboy in 2011 and the Barge will be participating in the 3rd Annual Taste of Perth Amboy, October 2, 2012.
When asked the future of the Barge, "I want to keep the restaurant running and make improvements every day."
To celebrate the Barge's Anniversary there will be daily specials. For the month of September there will be a Lobster Festival Monday thru Thursday – two 1lb Maine lobsters with Mussels Fra Diavolo, salad with coffee or hot tea for $28.95. No Coupons apply. Cannot be combined with any other offer. Please check the Barge's website www.thebarge.com for more details on upcoming events. There also was a Meet 'N Greet at the Barge for businesses to network on Tuesday, August 28, 2012 from 5:30 p.m. to 8:30 p.m. "The Meet 'N Greet was so popular in August that we had to cut people off early." By popular demand, the next Meet 'N Greet will be on Wednesday, November 14, 2012 from 5:30 p.m. to 8:30 p.m. For more info call Milton at 732-306-0040.
When asked the secret of his success, Alex Vosinas answers, "The customers are my bosses. Believe me, it's not about the business. It's all about you. Special request is our specialty. Without customers, you are nobody."