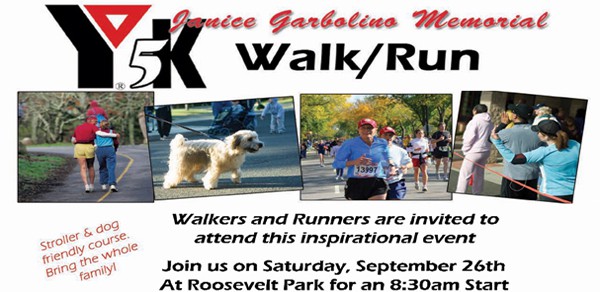 SOUTH AMBOY — Cancer. The Big 'C' – call it what you will. Years ago it seemed like a death sentence but today with the work being done the Lance Armstrong Foundation, more people are fighting the battle and winning, going on to live happy, healthy and productive lives.
It is the focus on the living that brought the YMCA and the Lance Armstrong Foundation together, united in a common purpose — to ensure that cancer survivors and their families receive the help and support they need to thrive.
Each year 400+ walkers and runners participate in the annual Janice Garbolino Memorial 5K event, walking or running in memory of Janice Garbolino, the former Health & Wellness Director of the Metuchen Branch YMCA, who lost her battle with breast cancer in 2002.
Janice would be pleased and proud of the work the YMCA is undertaking with the Lance Armstrong Foundation in her memory.
NEW THIS YEAR: The Y is asking participants to get involved by not only walking or running in memory or in honor of a loved one, but by raising funds in support of the program. Participants can simply and easily establish a personal fundraising page and set a personal or team fundraising goal by visiting the YMCA's website (www.ymcaofmewsa.org) and clicking on the Garbolino 5K Event link.
EVENT DETAILS: The event will take place at Roosevelt Park in Edison NJ on Saturday, morning September 22nd. Registration will be accepted in advance at the branches of the YMCA of Metuchen, Edison, Woodbridge & South Amboy and online through midnight on Thursday, September 20th. After September 20th, participants can register the morning of the event, from 7:30 AM until 8:15 AM at Lakeview School in Roosevelt Park (the location of the start and finish of the 5K).