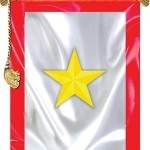 Two important dates are coming in the Veteran community, the first is September 20th, which is POW/MIA Remembrance Day. I guess the title is self explanatory, to remember all our Veterans from all our wars and conflicts who never returned home to their loved ones. They will forever be true American Heroes, please remember them on this solemn day.
The second date is September 30th, which is GOLD STAR MOTHER'S DAY, a day set aside to recognize the families, especially Mothers of Americans killed in war dates officially back to World War I.
When a family had a member killed in France or elsewhere in 1917-18, a gold star replaced the blue star on a service flag flown in the front window of a home.
Extending that symbolism, Congress – through Senate Joint Resolution 115 – on June 23, 1936 (amended in 1985) designated the last Sunday in September as GOLD STAR MOTHER'S DAY.
While Mothers remain the main focus of this noble tradition, it is important to bear in mind that Fathers and siblings grieve equally and constitute the larger "GOLD STAR" family.
Sadly, few Americans today recognize this day, still fewer are even aware that a special day of recognition exists and that it has bestowed honor for more than 75 years.
So please remember these two important dates, pause and pay tribute to these families who gave their Sons and Daughters, Husbands and Wives, Sisters and Brothers in the cause of freedom.
May God continue to bless the UNITED STATES OF AMERICA.
Thank you
Jerry Noonan
Avenel VFW Post 7164