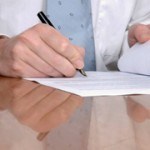 At this moment I have two letters that I am sitting on. One was emailed to me from a person I am not familiar with who said she was sending it on behalf of a young letter writer. I am waiting for a call from the parent of that young person to contact me to make sure that this letter was indeed written by their child. The other letter is political and I am having someone research that letter to make sure that individual did indeed write it. Sometimes my intuition kicks in and I have to listen to it.
There have been those who have written letters to me before and sometimes that if I feel if that writer didn't write that particular letter, I will give them a call.
With a heated race going on in the City of Perth Amboy, you have to make sure that any letter that you receive that is political in nature comes from a legitimate source.
So once my investigator makes sure that letter did indeed come from that particular person, then we will print it. But we may have to do some editing as some papers state in their policy.
Also we have been getting several letters and pictures from one particular writer complaining about garbage not being picked up in certain areas of the City.
This person has sent about seven emails addressing garbage. My suggestion to that writer is that they should go to a Council meeting and perhaps the situation will be addressed and rectified quicker. We may be requesting that when you send an email, or snail mail or whatever venue you use to contact us that you also leave your phone number so we can contact you personally.
Our cell phones are listed below in the box as are our e-mails. Some people may be afraid to write an email and have their identity revealed in the paper. If you have a fear of that, please add your phone number and state, "Withhold my name upon request." I remember when I worked for another weekly paper and many people forwarded e-mails or letters regarding the former administration. Some of these letter writers were employees of the City and feared for their jobs.
The owner of that paper understood and appreciated that they were able to help him expose corruption by forwarding authentic documentation.
The Amboy Guardian, too will respect that privacy.
In conclusion when you send a correspondence, please have a contact number, and if you are sending sensitive material but you don't want to be exposed, sign your name and just make a notation to withhold your name.
C.M.