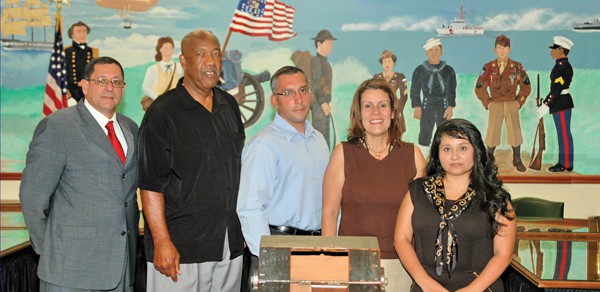 PERTH AMBOY — Thursday, September 13 at 3 p.m. was the last chance for any candidate who qualified to be placed on the ballot to drop out if they so desired. None did. City Clerk Elaine Jasko told those assembled at the Council Chambers that the ballot box being used to pull out the candidates names for positions was returned to the City yesterday (September 12, 2012).
This is the same ballot box that was used when Tony Jones name was pulled in a housing scheme that former Mayor Joe Vas was involved in. Jones was awarded a house that he was not eligible for. Jones (Vas' former driver). Jones pleaded guilty in connection with a scheme involving him and Vas to rig a public housing lottery.
Jasko had seven index cards with the candidates names on them. Mayoral candidate and their runningmates were listed on the same card.
One Council candidate, James F. Aleck had his name listed individually on an index card. Jasko invited the candidates or their representatives to look at the index cards placed on the railing in front of the Council Chambers. She cautioned everyone "Look, but please do not touch the cards."
She scolded one person who touched the card and that person committed that infraction gently placed the card back in place with her elbow.
After the examination Jasko folded each card in half and placed them in the infamous ballot box. Jasko also brought a chuckle to the crowd when she said, "I purposely wore short sleeves for this event."
She spun the box backwards, and forwards before pulling each name. The names came out in this order: Pos #1 Miguel Morales, Pos #2 Wilda Diaz and her ticket, Pos #3 Bob McCoy, Pos #4 Jim F. Aleck (Council), Pos #5 Frank Salado, Pos #6 Sharon Hubberman, Pos #7 Billy Delgado and ticket.
Jasko will forward this information to Middlesex County Clerk Elaine Flynn. Flynn will be the one assigning the letters and numbers to each candidate.
The County Clerk will be having a special class for poll clerks to familiarize themselves with the ballots.
Jasko stated, "This is the first time in my many years as the City Clerk that we've had the General, Municipal and School Board elections on the same day."
Each candidate was given a fifty-three page election ordinance booklet for 2012 prepared by the Police Department. This booklet explained in detail the rules and regulations that the candidates have to follow during their campaign.
Jasko also expressed gratitude to the Middlesex County Clerk, Elaine Flynn for all the help and guidance she has given her in preparing for this election. She said that Elaine Flynn is a Perth Amboy girl and wants to make sure that everything goes as smoothly as possible.
In conclusion, Jasko said, "If any of the candidates have any questions or suggestions they can feel free to call me."