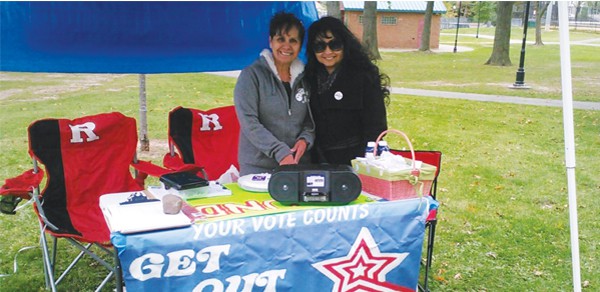 In Good Fun, Participants "Pied A City Issue" To Raise Awareness Of Their Concerns
Press Release 10/14/12
PERTH AMBOY – On October 12, the Hubberman for Mayor Campaign held a "Pie a City Issue" Rally in Washington Park along New Brunswick Avenue. This fun, attention-catching afternoon rally brought local voters and school children to the park in one of the city's after school neighborhoods. In connection with this effort was Hubberman's get out the vote message that their vote counts. October 16th is the last day for individuals to register to vote.
Three volunteers dressed up as the three biggest issues the City of Perth Amboy faces: No Jobs, Garbage and Littered Streets, and High Real Estate Taxes. The willing volunteers were "pied" of the worst problem the participants saw. While all three problems were humbled with cream pies, the "winning" issue, receiving the most cream pies from Perth Amboy's future generation, was NO JOBS.
Sharon Hubberman, Candidate for Perth Amboy Mayor, talked with the youth and voters who visited the rally. She noted, "Various ages of the youth participated, and it resonates how important it is to address the 16.8% unemployment rate in town. This rally confirms that lack of employment also impacts the youth. My growth strategy to boost the city's economy through innovation, technology, and renewables, will not only bring progress to our town but it will also help address our youth's concerns."
The UEZ is a city department set to enable small businesses to open and hire more people, and fund projects to stimulate growth for the city's business district. On the city's website, it states that the UEZ has collected over $19 million in sales tax revenue over 15 years that have been reinvested in UEZ projects. However, in a closer study of the city budgets over the last several years, a handful of companies and organizations received UEZ funding. "The UEZ is an area that needs closer inspection to see where it can be optimized and improved. In comparing Perth Amboy to other UEZ funded municipalities in neighboring counties such as Union County, who have lower unemployment rates, Perth Amboy's UEZ reflects a limited economic impact. The UEZ is a program designed to have a positive economic impact on communities, and as Mayor I will do my best to ensure the UEZ mission properly meets the needs of stimulating jobs and helping small businesses," Hubberman said.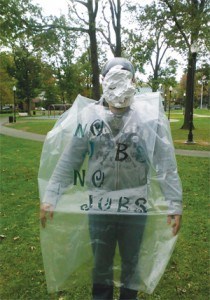 In addressing the city's toughest problems of no jobs, Hubberman's growth strategy focuses on operating in a New Economy: "In addition to helping small businesses, it is important to stimulate growth and promote sustainability. We must embrace industries of the New Economy, and attract innovation, technology, and renewable sectors if we are to thrive in the New Economy. These sectors have companies that are expanding and it is through expansion that job opportunities are created. Through better planning, Perth Amboy will have a brighter future," Hubberman said.