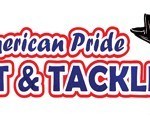 By Eddy Gonzalez—
PERTH AMBOY — What a season of fishing arguably the best in years. Well guys and gals oh yes gals! this season the women are out there pole in hand catching fish more than I've ever seen in the past. How great would it be to have a all woman bluefish and bass tournament a definite thing to look forward to.
The bass are on their way October straight threw to December is the best fishing so dress warm and bring home the big one you've been chasing. Perth Amboy's fishery is highly under rated schools of stripers and blues among a large assortment of other fish cut threw Perth Amboy's water in large numbers my favorite time is at night off the sandy beach I've caught many nice bass there and recommend it. Report of striped bass are coming in caught off the sandy hook channel and the reach bunkers have been splashing there way up and down the river, bay and kill. the shop is still waiting for its first official weigh in which should be any day now the guys fishing the Sewaren pier reported a keeper Carteret reported shorts as well as the guys at the Perth Amboy piers. Spots and cocktail blues have been dominating the action followed by some monster weakfish caught off the piers and the 20 can.
On the kill side local fisherman Ping caught a beauty 20'' blackfish ''nice job'' the shop is stocked with eels fresh cams bunker sandworms and more. eels and greenies been moving heavy this week in anticipation of what the big fish like. So be sure come by and check us out before you next trip. This week I felt flattered I had a guest ask me if I was the one who writes the reports I said ''Yes, I do.'' He stated he reads them all the time and enjoyed them. Wow! that was nice. I didn't get his name but it means a lot to hear that someone enjoys what you do thanks again.
Attention!! November 5 thru the 20 my 9th annual only for the hard-core striper tournament will take place so come by the shop and register early $10 per person.

1 fish one prize the largest fish takes the cash ! "Caution'' this tournament is not for the fair weather fisherman. LOL! It gets cold and windy on the front lines. Let's make his one the best ever a few hundred dollars for the holidays won't hurt for more info stop by or call the shop (732)486-8396. Remember keep your hooks sharp your line tight and your bait fresh! Till next time.