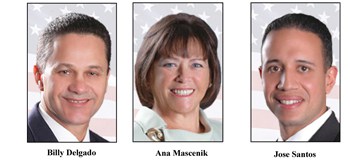 Billy Delgado is the quintessential American Story. Born in Puerto Rico, he moved into New Jersey with his parents in order to make a better life. The family scraped by on limited resources with the goal of securing an education to make a contribution to society. Billy worked at odd jobs and later attended SUNY College at Old Westbury and was accepted into Rutgers University. At Rutgers, Billy obtained a Bachelor's Degree completing a triple major in Sociology, Labor Studies and Puerto Rican and Caribbean Studies. He graduated with honors from Temple University Beasley School of Law in Philadelphia, one of the top law schools in the country.
Billy Delgado currently operates his own legal practice in Perth Amboy, often performing pro bono work for churches and those in need. He was a founder of the Perth Amboy Merchants Association (PAMA) and is a member of the Knights of Columbus. Billy and his wife Marilyn are local home owners. The couple has three children: Ariana, Daniel and Cristian.
Billy's plan is to revitalize Perth Amboy's economy is by creating new jobs and using new revenue to increase police protection in the city. Billy states that the City is uniquely positioned in a strategic location for smart redevelopment, especially along the waterfront.
He has worked with Buckeye Partners, the new owners of the former Chevron Oil refinery. By getting the oil refinery back up and running, this will enable the local residents to get back to work. He also wants to redevelop the former Celotex property which is approximately 36 acres of riverside land. He calls for the creation of an office park, convention center and a shopping and entertainment center. This can help stabilize skyrocketing property taxes.
Delgado is proposing a $50 million rehabilitation project for the Perth Amboy train station to create a transit village. Included would be a housing and mixed use commercial development. By doing this it would revitalize the downtown area, creating good jobs, providing safe and clean access to public transportation to make Perth Amboy a great location to live, work and raise a family.
Ana Mascenik: Born in Havana, Cuba and raised in Perth Amboy, NJ, Ana Mascenik is a long-time Perth Amboy resident and homeowner who is heavily invested in the success of the City and its citizens.
Prior to her retirement she was an educator in Perth Amboy. Over her 34 year career as a teacher and Principal she had a proven track record concerning student success, parent investment and positive character development. She holds dual Masters Degrees in Elementary Education with Bilingual Specialization and Educational Administration from Kean University, as well as a Bachelors of Science from Rutgers University.
Mrs. Mascenik has been honored for her excellence as an educator with awards from the Perth Amboy Merchant Association, the Perth Amboy Girl Scouts, and the State of New Jersey. These include the NJ Principal of the Year and the Governors Teacher Recognition Award.
In order to help the Perth Amboy School District and their children Mrs. Mascenik used her knowledge and expertise to develop and launch several different grant programs including the Partners in Learning Grant. All of this focus has led to her recognition as the leader of a school recognized as a NJ Benchmark School for three consecutive years.
Mrs. Mascenik continues to give back to her community. She volunteers with the Perth Amboy Girl Scouts, has been involved with A Taste of Perth Amboy, and is an active parishioner at the Ukrainian Catholic Church of the Assumption of the Blessed Virgin Mary.
Jose Santos: Jose, like many residents of Perth Amboy, is a first generation American whose parents sought a better life for their children. Jose grew up in a cramped one-bedroom apartment right here in Perth Amboy. After emigrating, Jose's parents instilled upon him a strong sense of education as being the true realization of the American Dream. Jose went a step further and realized it was his calling to become an educator himself. Jose, as a product of Perth Amboy's schools, has since graduated from Rutgers University with a degree in school business administration.
Jose, with every opportunity at his feet, chose to come back to the City of Perth Amboy to give back to those, like himself, who needed just a little extra push to succeed. Jose has since received six New Jersey educational certificates including those for Bilingual Teaching, Muti-cultural Teaching, School Business Administrator, and School Principal. Jose is currently the Vice-Principal for Anthony V. Ceres Elementary School. Jose's has made it his mission to inform our children of the importance of education and, as such, was the developer of a cooperative parent/teacher program for 8th graders which contributed to a 25% increase in the Grade Eight Proficiency Assessment (GEPA) scores right here in Perth Amboy.
Jose has deep roots in Perth Amboy and is a member of the Parish Council for Our Lady of Fatima Church.