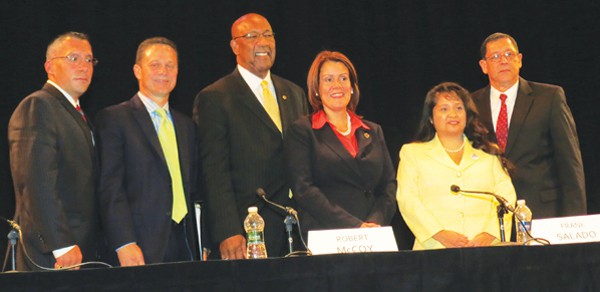 By Joseph L. Kuchie—
PERTH AMBOY — In front of a large crowd inside the Perth Amboy High School auditorium, the city's six candidates for Mayor faced off in another high-energy debate last Thursday.
Those in attendance submitted questions for the debate before the night began. Toni Zimmer, the President of the League of Women Voters, had her hands full as mediator as the crowd let their alliances show and candidates attempted to get as many points in as possible.
One of the most debated topics dealt with the city's debt, which is currently totaled around $200 million. Mayor Wilda Diaz, whose administration cut $54 million of that debt during her tenure, believed the city needed to keep moving forward with her at the helm.
"What many residents don't know is that there was additional off-the-book debt from the previous administration due to high interest rates," Diaz said. "We tried to get it back on the books and eliminated $54 million of that debt. We have to stay focused on paying our debt, and let's not pay more of what we don't have."
Candidate Miguel Morales believed that the debt could be handled more wisely, suggesting that the city pay back their debt at a minimum rather then trying to pay off the whole payment at once. He compared it to paying an electric bill and suggested to use the money in other areas.
"The key to reducing the city's debt is if you start paying minimal payments instead of paying the full amount," Morales said. "If you owe $2,000 but you only pay $500, you can use that extra money for something else and use it wisely for things we need."
Another topic that got the audience emotional was the current status of public living, which according to many residents has never been worse. Mayor Diaz received a harsh response from the crowd when she said the city was a better place then it was four years ago, and candidate Billy Delgado blamed bad leadership for the recent struggles.
"There is clear chaos in Perth Amboy, and that is what happens when you don't have a proper plan for the city," Delgado said. "The Perth Amboy Police Department has been dealt a bad hand because they aren't getting what they need. People are not getting answers and that's because there is a failed leadership in this town."
Candidate Frank Salado suggested dedicating more officers to shifts and having neighborhood watches to keep the streets of Perth Amboy safe. He used eye-opening statistics to emphasize the need for additional force in certain areas.
"According to the crime statistics, at least one crime is occurring in Perth Amboy every five hours," Salado said. "We have recently had shootings, and last week a 20-year-old boy was stabbed to death. Under my administration there would be more walkthroughs by our police department and I would even suggest a neighborhood watch to alert our police of any suspicious activity. Something needs to be done."
The audience was also curious of the candidate's take on partisanship. Perth Amboy currently has six candidates for Mayor in a non-partisan government, meaning candidates run under a slogan rather then political party, which is something that candidate Sharon Hubberman supported because of the ability for residents to vote based on the candidate's beliefs.
"You the people get to vote for who you want to win based on the candidate's views on certain topics," Hubberman said. "We need to preserve what our great city was built on and stay with a non-partisan government."
Reverend Milton Lester, the President of the Perth Amboy chapter of the NAACP, voiced his concerns about the amount of candidates before he brought Mrs. Zimmer to the stage. Lester spoke his mind to the audience explaining the current status of the city and how having six candidates was tearing the town apart.
"In my opinion, it is absolutely ludicrous that we have six candidates running for office," Lester said. "I believe after tonight they will look in the mirror and ask if they want to tear this town apart. People are saying we are crazy and off the map, but let's show New Jersey that we can come together and help make our city better. We don't need more separation, we need unity."
There was also a heated discussion about the city's Board of Education amidst the recent controversy that the school district has gone through. Mayor Diaz explained that legally there has to be some separation between the city government and school board, but candidate Robert McCoy suggested that the city help bring the Board of Education together.
"I'm aware of the separation, but we still need to bring the Board of Education together and make progress. 75 percent of our teachers don't even live in Perth Amboy, our tax money is leaving the city, and we need to find a way to have everyone committed.
Controversial words were said at the end of the night during the session's closing statements. Delgado once again questioned the leadership of Mayor Diaz, while Morales was agitated by Delgado's statements about the city's success relying on a team commitment.
"With all due respect but you are not a full time mayor, the business administrator is," Delgado told Mayor Diaz. "You don't have the right team, you have the corrupt team," Morales told Delgado.
Election Day will be on Tuesday, November 6th from 8:00 am – 6:00 p.m..