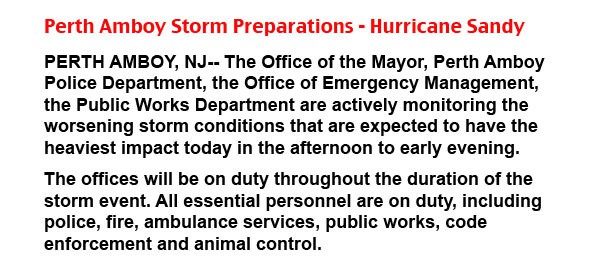 PERTH AMBOY, NJ– The Office of the Mayor, Perth Amboy Police Department, the Office of Emergency Management, the Public Works Department are actively monitoring the worsening storm conditions that is expected to have the heaviest impact totoday in the afternoon to early evening. The offices will be on duty throughout the duration of the storm event. All essential personnel are on duty, including police, fire, ambulance services, public works, code enforcement and animal control.
All city programs, events and Office on Aging (senior) activities and transportation are cancelled.
Residents and business owners in flood prone areas have been contacted and are reminded to move vehicles to higher ground and to be prepared to undertake emergency procedures should the office of emergency management issue specific storm related warnings.
There will be NO garbage collection on Monday and Tuesday. ALL residents are advised to remove and secure all garbage receptacles, outdoor furniture, Halloween decorations and any other items that may become airborne due to high winds.
Shelters have been identified and will be opened as needed tomorrow. Pets are allowed in the shelters, please have them contained/leashed.
For Perth Amboy residents who may need shelter, the City in cooperation with the school district have established shelters at the following locations:
The Shull School – 380 Hall Avenue
The McGinnis School – 271 State Street
The Middlesex County Regional Shelter is located at the Woodbridge Community Center located at 600 Main Street – Woodbridge.
The Office of Emergency Management has established communication with the State of New Jersey and Middlesex County Office of Emergency Management and city utility and service agencies including water, gas, and electricity and critical public service agencies.
The Perth Amboy Fire Department, Raritan Bay Medical Center ambulance services, community emergency team and auxiliary police officers are on alert status and are available to respond to any emergency situation anywhere in the city.
Please by careful and stay off the roads unless travel is due to an emergency or an evacuation. Your cooperation and partnership in allowing our personnel to do their work is absolutely essential.
For emergencies only pleases dial 9-1-1. For non-emergencies please call 732-442-4200.
For updates on weather conditions and other announcements, please:
Stay tuned to your local news channels and radio stations. For Perth Amboy news watch PATV (Comcast 34/Verizon 47), we will have updated bulletin information and a filming on storm preparations. You may also visit the OFFICIAL MAYOR'S FACEBOOK page at www.facebook.com/mayorwildadiaz.  For additional information on storm preparations, shelter operations, emergency parking locations and an emergency kit list, please visit: www.ci.perthamboy.nj.us.
For additional information about the City of Perth Amboy, please visit:  www.ci.perthamboy.nj.us.