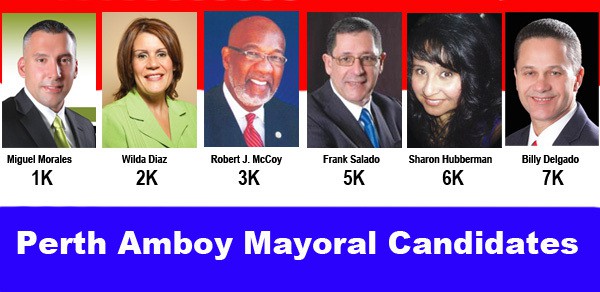 Voters Get Last Chance to Hear Candidates on the Issues—Mayoral Forum 10/23/12—
By Jennifer Lilonsky—
PERTH AMBOY — The city's six mayoral candidates engaged in a heated debate hosted by The Amboy Guardian at Temple Beth Mordecai last Wednesday where all of the contenders secured their stances on key issues of concern to both residents and businesses.
The second mayoral matchup of the election year featured questions compiled by the editors of The Amboy Guardian and audience members based on their importance and relevancy to the voting public, said debate moderator and Rutgers University journalism professor Ronald Miskoff.
Property tax stability was just one of the topics that sparked a strong reaction from the candidates. Incumbent Mayor Wilda Diaz's response to this issue was based on her claim that Perth Amboy is already going in the right direction because of what she has done with the city under her watch.
"We were on the brink of bankruptcy with $250 million in debt and a $10 million structural deficit. Simply put we were left with a fiscal mess," Diaz said. "Four years later we have put our city on the right track which allowed us for the first time in 14 years to reduce the tax levy by $1.1 million."
Diaz also said that her administration has been successful in stabilizing municipal taxes for the last two years and reminded the audience that the city has no control over school board and county taxes.
But candidate Billy Delgado did not agree with Diaz's claims and said that there was never a master plan in place during her reign as mayor.
"One of the reasons taxes have doubled over the past four years is because we have no master plan and no business plan," Delgado said. "For four and a half years we have gone to manage a city aimlessly and that's what is going to stop."
Delgado also said that he would reject any kind of housing development plan that would crowd the schools and cause a tax increase.
Candidate Robert McCoy focused his response regarding the tax issue on the city's need to focus on development and redevelopment. McCoy also expressed the importance of restarting projects that were once underway on the more than 150 acres of brownfields that have already been approved for development.
"I plan to target developers and economic investment with real opportunity for growth," McCoy said. "I propose to repackage those previous construction projects that would expand the city's tax base and introduce new tax revenues to help stabilize local taxes."
But Candidate Frank Salado does not believe that development is going to solve the economic problems in the city and said that the solution rests in job creation.
"8,300 people out of work. That's a problem. That's how you solve the problems for the city," Salado said. "Not by building castles in the sky and telling me you're gonna bring a project. It's about getting the people work and taking care of them so they can take care of their homes."
Candidate Sharon Hubberman said that she is unlike other candidates who believe that developers will produce economic growth and warned that it often ends in unfinished projects and increased debt.
Instead, Hubberman believes in attracting companies that are going to contribute ratables through good leadership and a commitment to negotiating fair deals.
"If we're going to have big companies like Buckeye come them we need to get our fair share of tax and not let them pay 6 percent in Linden and 2.8 percent in Perth Amboy," Hubberman said.
Candidate Miguel Morales received a loud applause from the audience after his rebuttal that focused on reducing costs at city hall.
"The first thing that that we have to do is actually stabilize what we have right now and what we have right now is that city hall is overpaid," Morales said. "So if we can downsize city hall at the second floor then that can stabilize taxes as we speak right now."
Illegal housing was another topic that generated intense reactions from the candidates and is a problem that continues to create negative implications for municipal services such as the sanitation, police and fire departments.
Morales recognized the strain that illegal housing places on municipal services and said that it is important to lead code enforcement to seek ways of controlling the problem.
"Illegal housing reduces the quality of life in our neighborhoods by crowding more people in that area, Morales said. "It causes severe strain on municipal services and frequently results in school overcrowding, reduced parking, understaffed police stations and increased sewer and sanitation problems.
But Diaz defended what her administration has done in regard to improving illegal housing conditions and placed more emphasis on the public's role in reporting conditions to the city.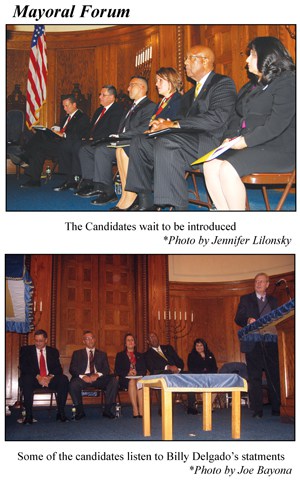 "My administration is committed to improving the quality of life in Perth Amboy by creating much opportunity for all to prosper but we have addressed illegal housing," Diaz said. "We need the residents to also report it and to help us out but we are out there, code enforcement is out there"
Hubberman said that working to decrease real estate taxes, which she believes is the underlying problem, would help alleviate the pressure that illegal housing places on the city.
"I believe that the only way to address the issue of illegal housing is by promoting growth and attracting jobs so that people have stabilized taxes," Hubberman said. "It's a much deeper issue than making sure people are compliant with the law."
Delgado is concerned with the decreased number of code enforcers who also do not live in the city and are therefore failing to assist the community in making their homes compliant with the law.
"The reality of this is that we used to have nine inspectors and now we have two and those positions have been relegated to outside companies through the mayor's plan of privatization," Delgado said. "By getting rid of the inspectors who were homeowners here you don't have the people that know the community going around anymore and working with the homeowners to help them address the issues."
The mayoral candidates also debated over strategies for creating jobs in the city, improving the police department and redeveloping the infrastructure of Perth Amboy.
Election day is Tuesday, Nov. 6. Polls will be open to voters from 8 a.m. to 6 p.m.